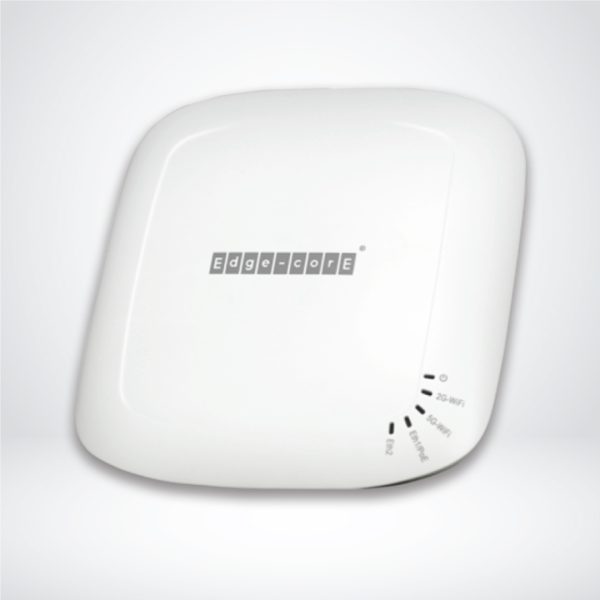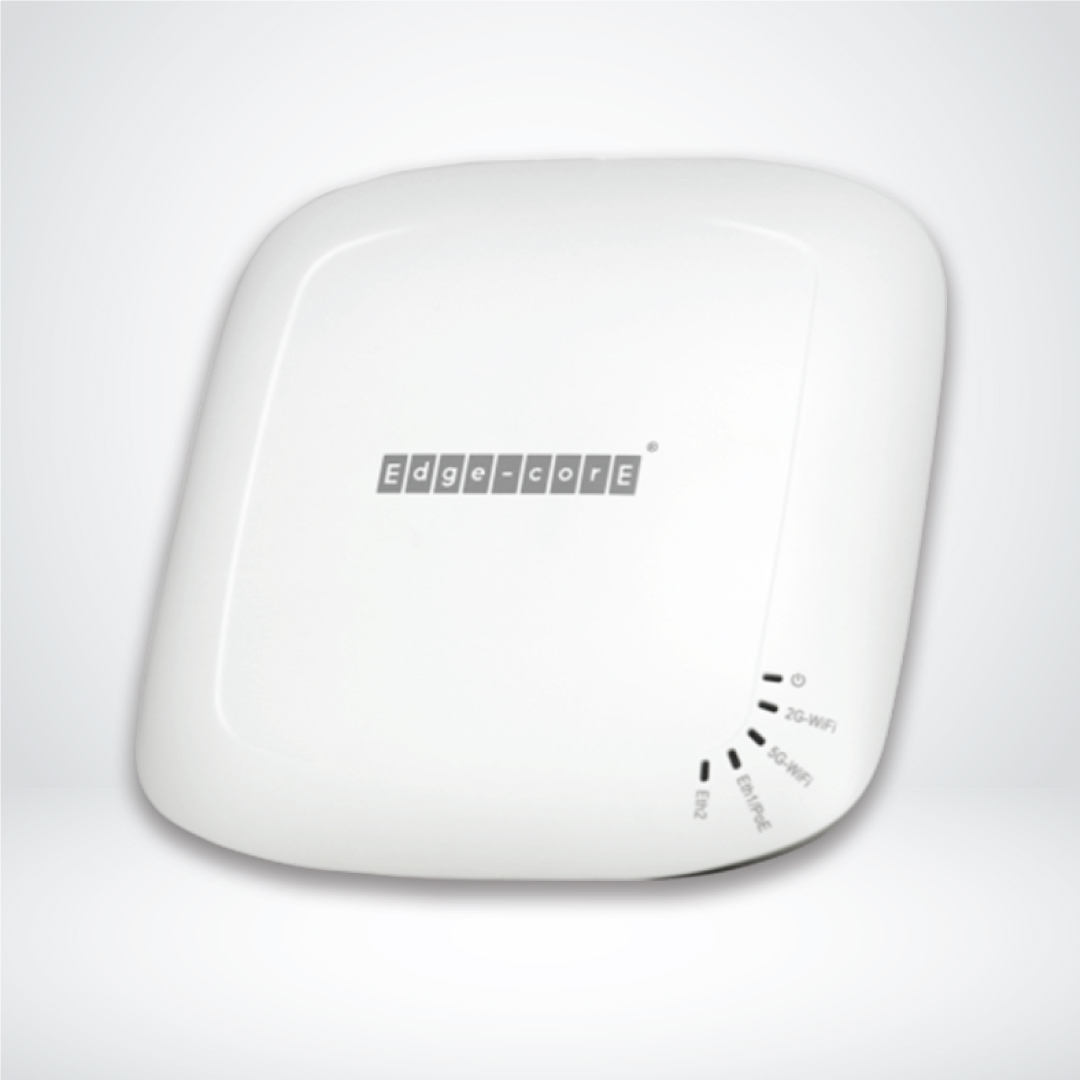 11ac Dual Band Wave 2, 2×2 MU-MIMO Hotspot Gateway – ECH502
The Edgecore ECH502 is a wireless hotspot with built-in user access control, ideal for SMBs that wish to provide simple and manageable guest Wi-Fi.
Compare
Compare
The Edgecore ECH502 is an all-in-one wireless hotspot gateway solution that caters primarily to SMBs such as coffee shops or restaurants. As an access point with built-in gateway functionality, the ECH502 is ideal for businesses that wish to have an enterprise-grade Wi-Fi network for their customers, without the associated deployment costs and complexities. Featuring concurrent dual-band 802.11ac wave 2 connectivity, 2×2:2 MU-MIMO with a total data rate of 1.2 Gbps, and many wireless optimization features, the ECH502 is able to provide a wire-like performance. Additionally, the ECH502 offers a comprehensive set of user authentication, policy enforcement, and network traffic monitoring functionality, allowing businesses to gain complete visibility and control over their Wi-Fi.
The integrated guest Wi-Fi in the ECH502 supports a wide-array of methods for guests to authenticate and obtain Wi-Fi access. Guests can register by e-mail, SMS, or popular social media platforms such as Facebook, for additional access. Alternatively, businesses can choose to integrate external RADIUS server to easily centralize the user credentials in existed network environment.
With the ECH502, small business owners can move beyond just providing free Wi-Fi to their customers. Customizable captive portals and social media login are now valuable sources for obtaining direct customer information, which in turn allows for better understanding of customers and more effective marketing campaigns. Manageable Wi-Fi is increasingly becoming a necessity for SMBs that wish to offer a secure and reliable Wi-Fi environment, and the ECH502 is the ideal product to meet these needs.
RADIO

802.11 a/b/g/n/ac ; Wave 2
Concurrent Dual-band 2.4 & 5 GHz
Radio Chains: 2 x 2 : 2
Output Power: 2.4 GHz: Up to 22 dBm, 5 GHz: Up to 22 dBm(Maximum power is limited by local regulatory requirements)
Frequency Band: 2.412 – 2.472 GHz, 5.180 – 5.825 GHz
Channelization: 20 MHz, 40 MHz, 80 MHz
Up to 8 ESSIDs

PERFORMANCE

Up to 300 Mbps Data Rate (2.4 GHz)
Up to 867 Mbps Data Rate (5 GHz)

SYSTEM CAPACITY

Up to 2,000 Local Accounts
Up to 2,000 On-Demand Accounts

SECURITY

Wireless Security: WEP, WPA / WPA2 Mixed, WPA2-Personal, WPA2-Enterprise (802.1X), TKIP and AES Encryption
VLAN Tagging (802.1Q)
Station Isolation
DHCP Snooping
Layer 2 Firewall

PHYSICAL DIMENSIONS

14.7 cm x 14.7 cm x 3.5 cm (W x D x H)
Weight: 0.36 g (0.78 lbs)
Mounting: Wall/Ceiling mount (Mounting kit included)

POWER

DC Input: 12V / 1.0A
PoE: 802.3af compliant (PoE injector optional)
Power Consumption: 9.0W max.

ANTENNA

Type: 3 x Built-in PIFA (2 x 2.4 GHz, 5 GHz, 1 x Bluetooth Low Energy)
Gain: 3 dBi (2.4 GHz), 5 dBi (5 GHz), 3 dBi (BLE)

ENVIRONMENTAL CONDITIONS

Operating Temperature: 0°C (32°F) to 50°C (122°F)
Operating Humidity: 5% to 95% non-condensing
NETWORK SERVICES

Internet Protocols Supported: IPv4
Network Address Translation
Built-in HTTP Proxy Server
DHCP Server and Relay
Local DNS Records
Integrated Billing & Accounting System
Billing Quota Types: Duration, Volume, Time

USER MANAGEMENT

Simultaneous Support for Multiple Authentication Methods: Local, On-Demand, Guest, RADIUS
Social Media Login: Facebook, Google+, Line, Open ID
User Policy Assignment
Bandwidth Limitations
Traffic Classification / Remarking
Stateful Firewall
Static Route Assignment
Concurrent Session Limit
Client Change Password Privilege

SYSTEM MANAGEMENT

Browser-Based Configuration
Administrator Accounts
System Time
System Backup and Restore
SNMP
Network Utilities

MONITORING AND REPORTING

Online Status Monitoring of Users
IP-based Monitoring of Devices
User Traffic History Log
Configuration Change Log
Supports External SYSLOG Server for Diagnosis and Troubleshooting

INTERFACES

Uplink: 1 x 10/100/1000Base-T Ethernet, Auto MDIX, RJ-45 with 802.3af PoE
LAN: 1 x 10/100/1000Base-T Ethernet, Auto MDIX, RJ-45
USB: 1 x USB 2.0 Port

LED INDICATORS

Power/2G-WiFi/5G-WiFi/LAN
Hotspot Billing & Guest Wi-Fi
Customized Captive Portal
Guest Social Media Login
Guest On-Demand Accounts
Multiple Billing Plans & Flexible Currencies
User Quota by Volume, Time, and Duration
SMS & Payment Gateway Interfaces
Location-based Login Advertisements
Multi-factor Email Authentication
Complete User Management
802.1X or Browser-based Authentication
Flexible Role-based User Policies
User Bandwidth Control, Firewall, and Routing
MAC/IP Privilege Lists and Blacklists
Detailed User Browsing History
User Session Control & Limits
User Event Logs & Traffic Statistics
Fast Setup & Easy Management
Single Management UI for Wi-Fi Parameters & User Access Control
No Additional Cabling or Devices Needed
Fixed Local Accounts for Staff and Employees
Simple Integration to Keypad-based Ticket Printer
Alternative Smartphone/Tablet Account Creation
Built-in Network Troubleshooting Utilities