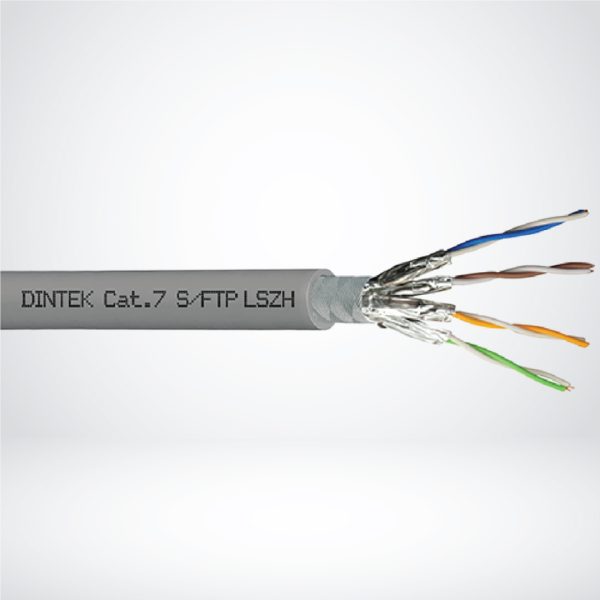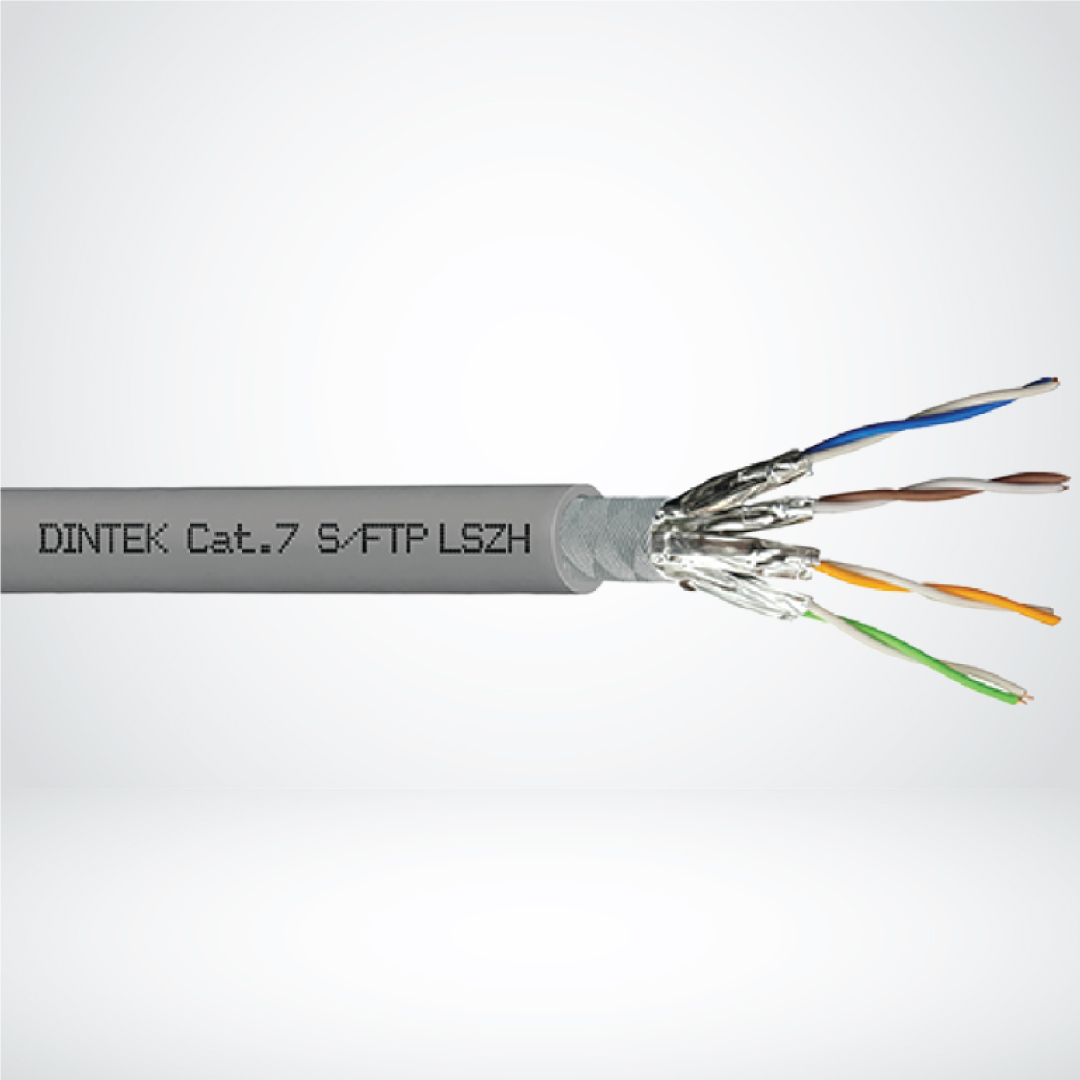 Cat7 S/FTP Solid LSZH Cable (1 roll:305m) – 1105-05001
DINTEK PowerMAX7TM Cat.7 cable is specifically designed to support current and future high speed network applications such as 10-Gigabit Ethernet.
The cable is constructed of 4 screened pairs and a drain wire. DINTEK PowerMAX7TM Cat.7 S/FTP cable eliminates alien crosstalk, gives excellent signal isolation and provides superior electromagnetic interference protection.
Compare
Compare
Application
 10GBASE-T Ethernet 100BASE-TX Fast Ethernet 1000BASE-T Gigabit Ethernet
1000BASE-TX Gigabit Ethernet 10BASE-TX Ethernet
ATM CB1G | 155/622 Mbps ATM
100 Mbps TP-PMD | 100VG-AnyLAN | Voice
Standards Conformance 
Flame Retardancy is verified according to IEC 60332-1-2 ISO/IEC11801 Class F, 2nd edition
ANSI/TIA/EIA Cabling Standard 568-C.2
Independent Verified Certifications 
3P Certified for Category 7 S/FTP installation Cable
Performance Statistics
 

Frequency Mhz

Insertion Loss dB/100mtrs
 

NEXT (dB)

 

PSNEXT (dB)

1
2.0
74.3
72.3
4
3.8
65.3
63.3
10
6.0
59.3
57.3
16
7.6
56.2
54.2
20
8.5
54.8
52.8
31.25
10.7
51.9
49.9
62.5
15.4
47.4
45.4
100
19.8
44.3
42.3
200
29.0
39.8
37.8
300
36.4
37.1
35.1
600
54.5
32.6
30.6
Construction
Conductor
Material
Solid Bare Ccopper
Wire Size
23AWG
Insulation
Material
Foam-Skin PE
Thickness
Nominal: 0.419
Diameter
Nominal: 1.42mm
Colors
Blue/White-Blue | Orange/White-Orange | Green/White-Green | Brown/White-Brown
Unaged Elongation (%)
Min. 100%
Unaged Tensile Strength
Min. 0.816 Kgf/mm²
Individual Shielding
A layer of aluminum mylar tape
Jacket
Material
LSZH
Thickness
Nominal : 0.5 mm
Diameter
7.4±0.3mm
Color
Gray – (Assorted upon request)
Overall Shielding
Tinned copper wire braiding, normal with min. 40% coverage
Physical Ranges
Insulation
Min. Tension Strength
Before Aging : Min 0.816 Kgf/mm²
Min Elongation (%)
Before Aging : Min 100%
Jacket
Min. Tension Strength
Before Aging : Min. 0.917 Kgf/mm² | After Aging : Min. tensile strength retention: 70%
Min Elongation (%)
Before Aging : Min. 125%|After Aging : Min. elongation retention: 75%
Dialectric Strength
1500 V dc/2 seconds
Min. Bending Radius
32mm
Max. Pulling Tension
25Ib/Mtr (8-10kg)
Installation Temperature
0℃ to + 50℃
Operating Temperature
-20℃ to + 50℃
Electrical
Conductor Resistance
Max. 9.38 Ω/100m at 20℃
DC Resistance
Max 2% at 20℃
Pair-to-Ground Capacitance Unbalance
Max 160 pF/100m
Dielectric Strength of Insulation
2500 Vdc/3 seconds
Insulation Resistance Test
Min. 5000M Ω/m
Mutual Capacitance
Max. 5600 pF/100m
Impedance 100-250MHz
100 Ω ±15%
Impedance 300~600MHz
100 Ω ± 25%
Spark Test
2000 ±250 V ac