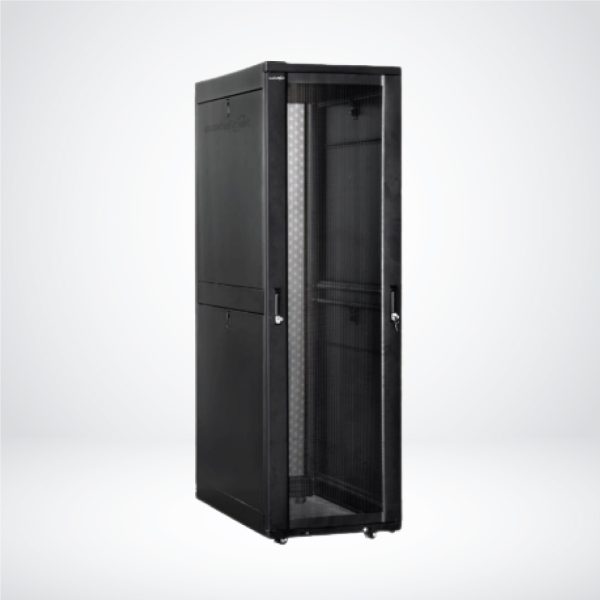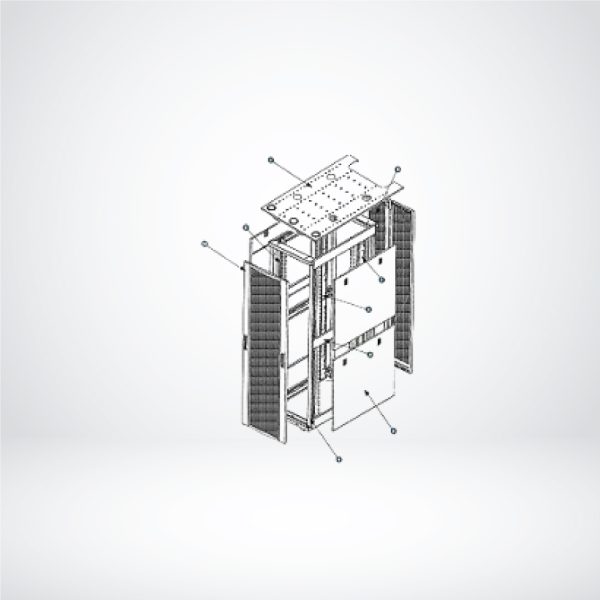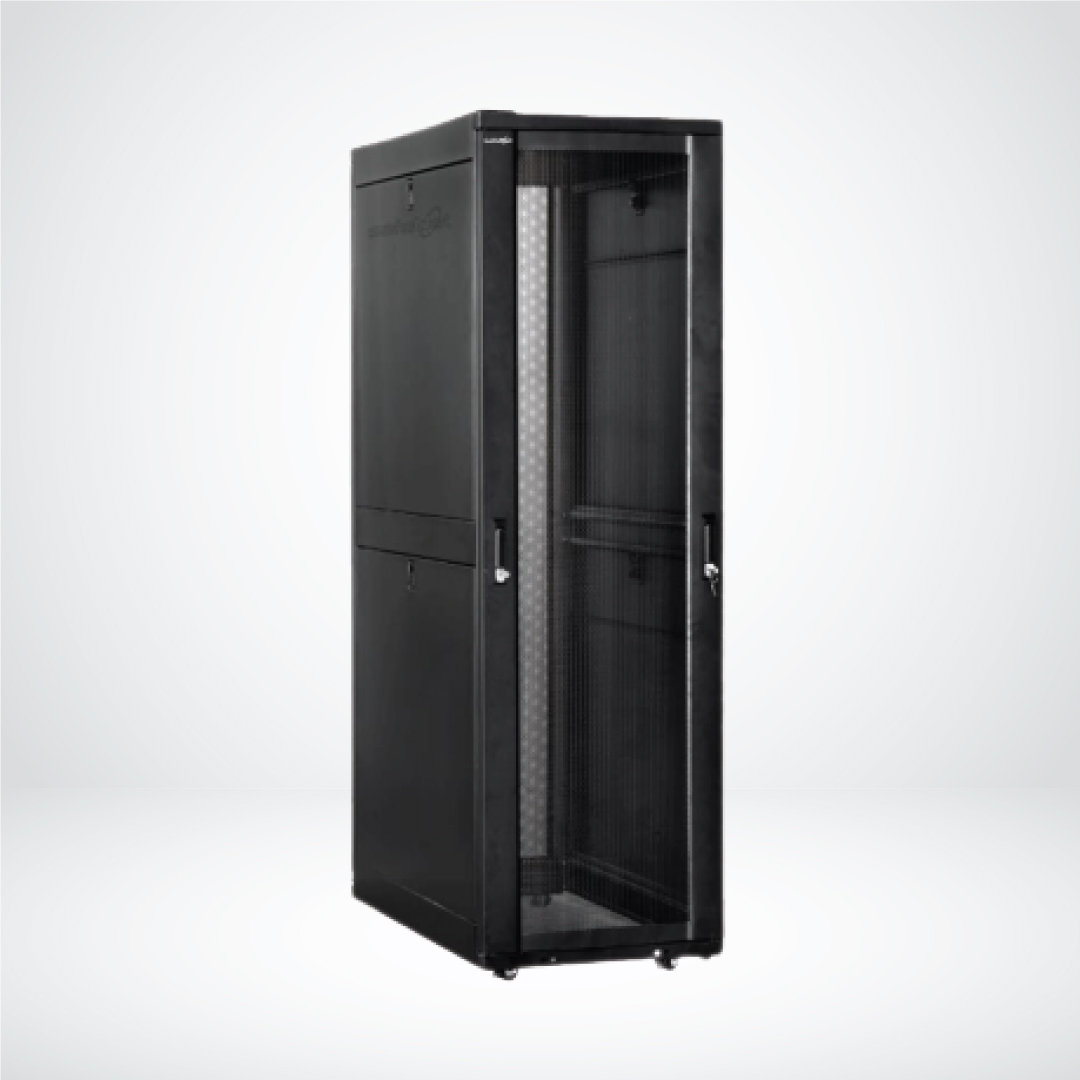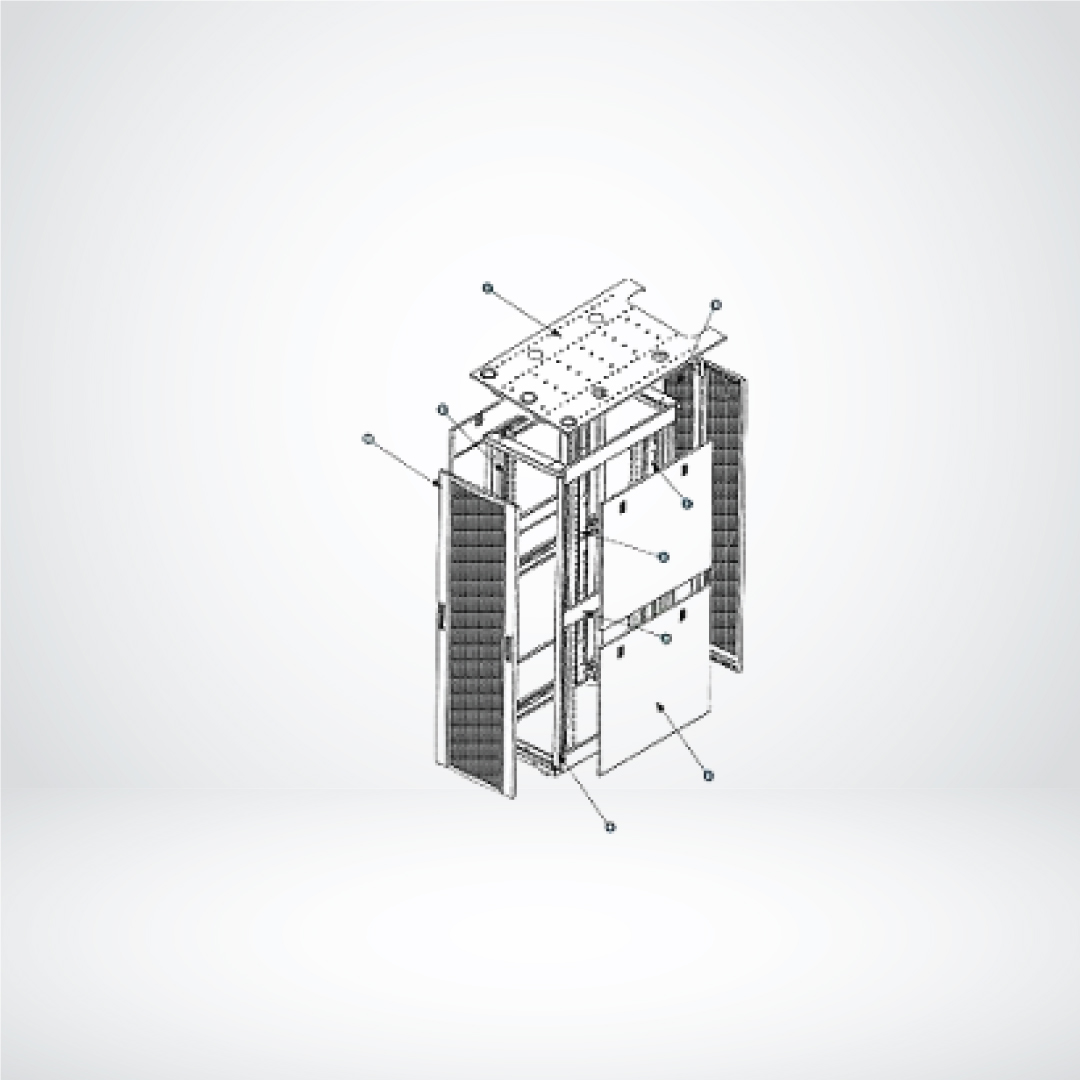 42U High Density Perforated Data Center Cabinet (800*1000)mm with Split Rear Door & either side opening Front Door – SNP-8142
A. Easy Left or Right Opening Front door
• Spacious open architecture for easy Left
Opening or right Opening for Front door to
improve ease of installation and service.
B. Top Panel with Fans (Removable)
• Spring-loaded pins allow the top panel to be
removed and replaced in seconds.
C. Heavy-Duty Bottom Plate
• The bottom plate with additional strengthening
rib can guarantee the heavy load capacity to
150kgs.
D. Grounding Kit
• Ensures ground continuity between all parts of
the cabinet and installation site ground point.
Supplied wires 10AWG and UL rated.
E. Lockable & Removable Side Panels
• Side panels come with security key lock and
quick release slide latches for easy removal in
maintenance environments.
F. Lockable & Removable Split Rear Door
• Lockable and removable split rear doors reduce
clearance requirements for service access. The
doors are perforated for optimal airflow.
G. Heavy -Duty Casters and Levelers
• Support a rolling and stationary load capacity of
1050kgs and adjust to improve racks stability.
H. Vertical rails with U height mark
• U mark sticked on the rails to show the height of
cabinet.
Compare
Compare
Network Peripherals must be dispersed over a wide area and in many unique locations. The
SafeNet Perforated Floor Standing Server Sabinet is ideal for today exacting equipment's
demands for both high density Server installation plus Network & Telecom management
requirements. The precise design allows sufficient Cooling, Power Distribution, Cable
Management, and environmental monitoring for applications in IT environments.
• Outstanding Ventilation
Massive front-to-rear airflow-up to 78% to meet the demands of today's data center
solution. Optional Air Distribution to pull hot air out of the Cabinet.
• Innovative Design
Locks can be opened from either side. Toolless mounting slots for vertical PDU and cable
managers.
• Sturdy
High grade cold rolled steel Frame and RoHS complaints materials to support 1050kgs
guaranteed loading capacity.
SafeNet's SNP-series server cabinet is the ultimate solution designed and engineered for
demanding data center deployments. To achieve optimum versatility within the server cabinet,
users can set multiple depths throughout the cabinet by adjustable 19" mounting rails mounted on
heavy duty side supports.
| | | |
| --- | --- | --- |
| Vented Front Door with two Advance Swivel Locks | 1 | 1 |
| Removable Side Panel | 2 | 4 |
| Top cover with Fan Unit | 1 | 1 |
| Door Frame | 2 | 2 |
| Left Vertical Rails | 2 | 2 |
| Right Vertical Rails | 2 | 2 |
| Vertical Cable Management | 2 | 2 |
| Horizontal Beam | 4 | 6 |
| Split Vented Rear Door | 2 | 2 |
| Heavy Duty Bottom Plate | 1 | 1 |