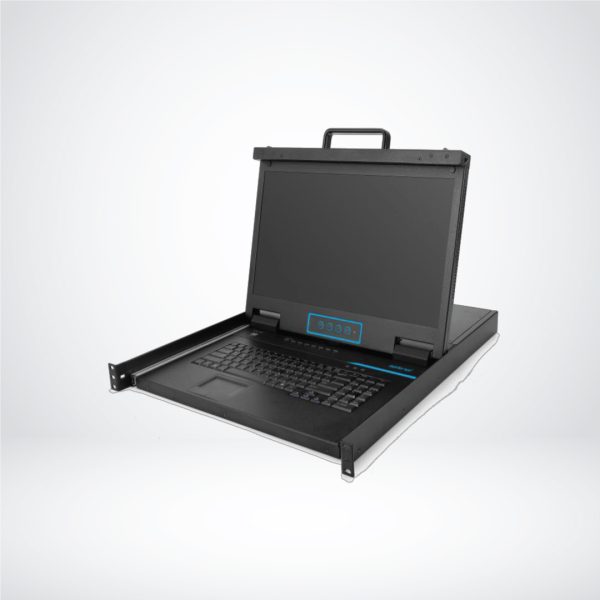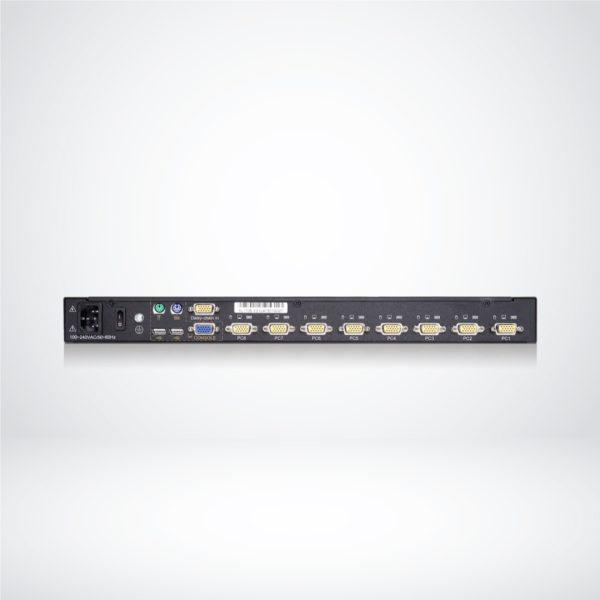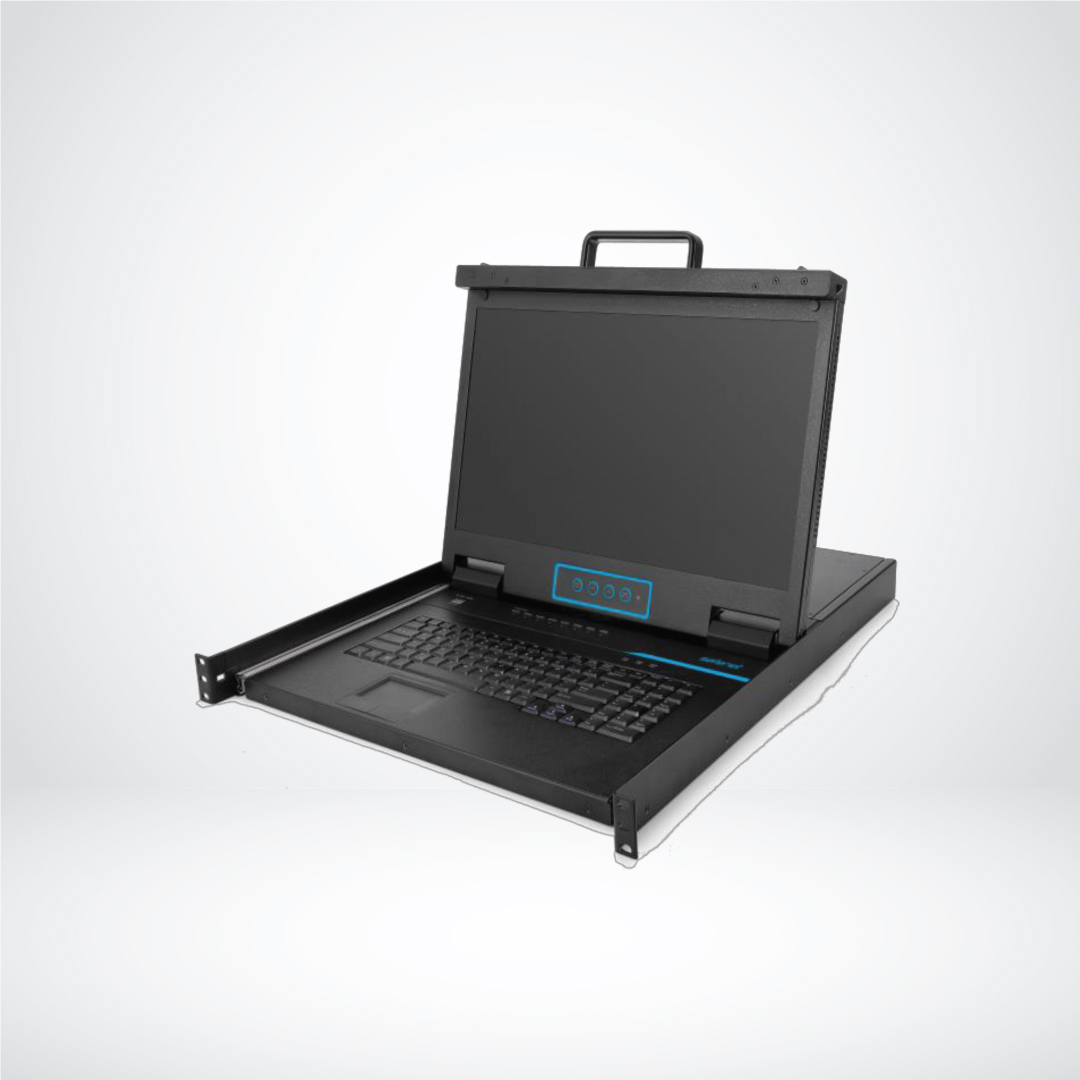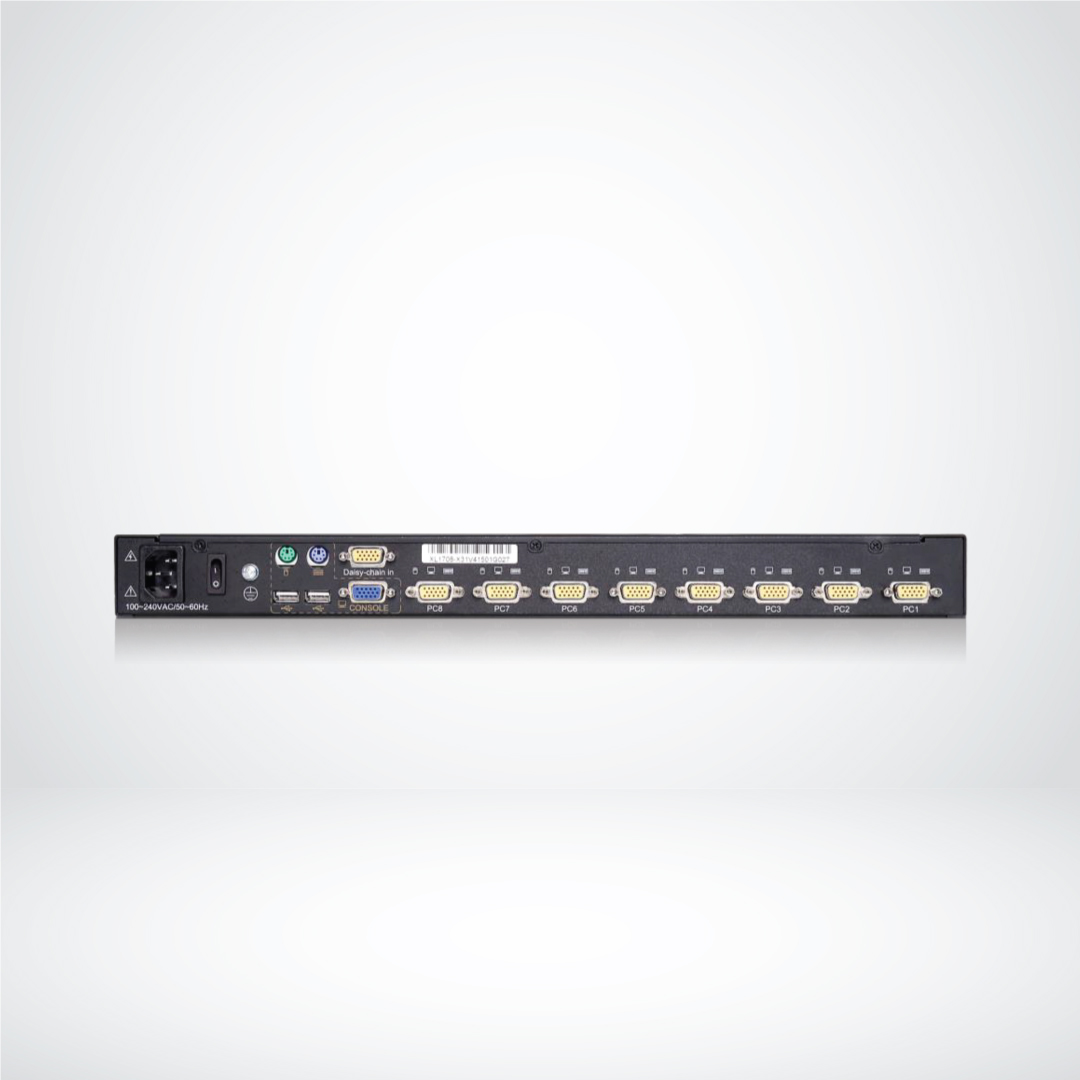 Short Depth Full HD 18.5″ Widescreen LCD 8-Port Stacking VGA KVM (with USB VGA Cables) – SN-KC6808S
• Integrated with 8/16 Port KVM switch in 1U height console
• Convenient computer switching via front panel LEDs, keyboard hotkey combination or on-screendisplay (OSD)
• Supports broadcast mode for keyboard operations simultaneously performed on all selected computers
• Hot pluggable supports to add or remove computers without having to power down the switch
• On-Screen Display (OSD) adjustments – Adjust the on-screen image, including: auto adjust, exit, power on/off, brightness, menu, and a power indicator
• Full size 99 Keys Keyboard with integrated number pad
• Auto scan feature for monitoring user-selected computer
• Quickly select computer by naming the server or inputting SN number of the server
• Supports two level password security. Authorized users can view and control computers and
administrators with a separate profile for each.
• Built-in Touchpad with trackball – Eliminates the need for a separate and external mouse
• Compatible with Windows, Sun, Unix and Linux
Compare
Compare
Featuring an integrated 18.5″ LED-backlit widescreen LCD Monitor, keyboard and touchpad in a 1U rackmountable housing. It allows access and control up to 8 computers and up to 256 computers by cascading daisy-chain cable from a single console. The console supports 1920×1080@60Hz (Full HD) resolution and switching between Computers can be easily accomplished by front panel pushbuttons, keyboard hotkey combination or on-screen-display (OSD). The console supports both USB and PS2-VGA connection and an additional HDB15 port allows VGA monitor to be connected.
FULL HD RESOLUTION: Widescreen 18.5″ LED LCD panel with a 16: 9 aspect ratio delivers resolutions up to 1920×1080@60Hz
SECURITY: Authorized users can view and control computers and an administrator with a separate profile for each.
PHYSICAL STACKING: Supports Cascading to connect another 31 switches to control up to 256 servers
Computer Connections

Direct
8 or 16
Maximum by Cascading
256
Port emulation
Keyboard & Mouse
PS/2, USB

LCD Monitor

LCD Model
FHD TFT
Viewing Area
18.5"
Optimum Resolution
1920×1080@60Hz
Display Color
16.7 M
Brightness
350cd/m² (T y p)
Contrast Ratio
1000: 1 (T y p)
Pixel pitch(mm)
0.213(H) × 0.213 (W)

Mouse

X/Y Resolution
>1000 points / inch, (40 points/mm)
Scroll Wheel
Support Scroll Wheel Function
Keyboard
99 Keys (82 Main Keys + 17 Independent Numeric)
Port Selection
Pushbuttons, Hotkeys, OSD Menu

General Features

Input Power
100V – 240Vac, 50 ~ 60Hz, <1.5A
Power Consumption
23W
Operating Temperature
0 ~ 50 ℃
Storage Temperature
-20 ~ 60 ℃
Humidity
0~80% RH, Non-condensing
Net Weight
11.4kg
Product Dimension (W×D×H)
448mm×560mm×42.5mm
Package Dimension (W×D×H)
765mm×615mm×185mm
Optional Power Input
-36V— -72Vdc