Data Center: Application & Importance
What is Data Center?
A data center is a repository that houses computing facilities like servers, routers, switches and firewalls, as well as supporting components like backup equipment, fire suppression facilities and air conditioning. A data center may be complex (dedicated building) or simple (an area or room that houses only a few servers). Additionally, a data center may be private or shared.
What is the Application of Data Center?
Data Centers are specialized facilities that provides disaster resilient physical infrastructure, uninterrupted power with effective cooling and precision controlled environment with highest service levels to ensure high availability of customer mission critical environment.
Importance of data center comes in the perspective of managing data produced by organizations, be it telecommunication, educational institutions, financial Institutions, online marketing or social media Websites.
Therefore, organizations require data centers to compile data on servers so that it can be accessed by any user sitting in any corner of the globe via Internet enabled devices.
Why Data Center is Important in an Enterprise?
Currently, the businesses thrive on internet and data. Therefore, data backup is the first-step protection that businesses can have to ensure smooth operations. It is also used to protect the organization's data against damage, theft, software failure, and disaster.
With a dependable datacenter, the organization can retrieve the data in case that they are damaged or interrupted. Unlike physical assets, such as buildings, which can be resurrected through insurance in case of fire or natural disaster, lost data are incurable unless you have their backup. This is why data center is particularly important for an enterprise.
Data Center: Tier Standard
Data center standards exist to evaluate the quality and reliability of a data center's server hosting ability. The Uptime Institute uses a somewhat mysterious four-tier ranking system as a benchmark for determining the reliability of a data center. This proprietary rating system begins with Tier I data centers, which are basically warehouses with power, and ends with Tier IV data centers, which offer 2N redundant power and cooling in addition to a 99.99% uptime guarantee.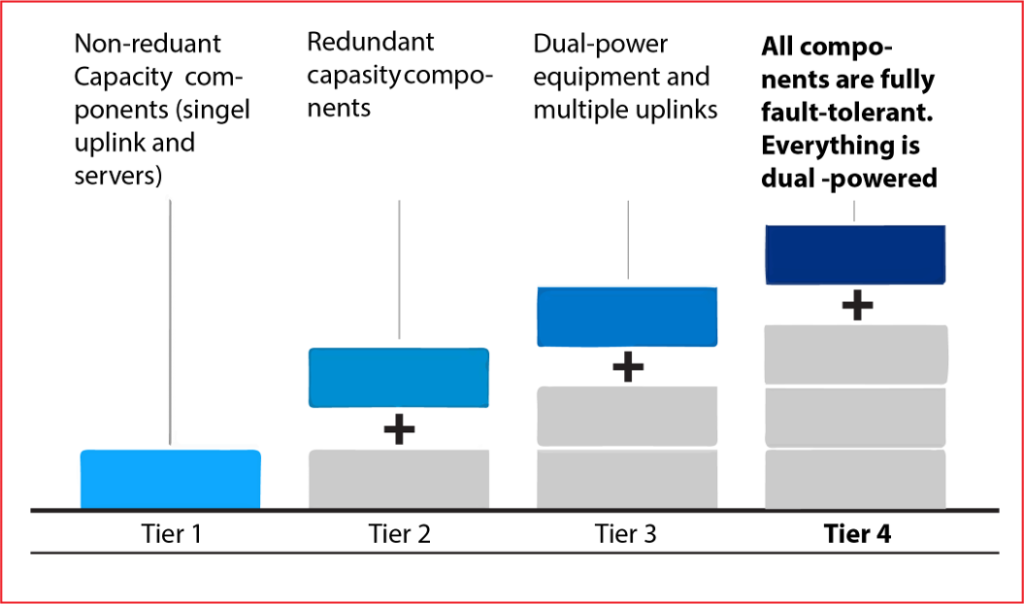 | | | |
| --- | --- | --- |
| TIER | EVALUATION | Availability |
| 1 | Non-redundant capacity components (single uplink and servers). | 99.671% |
| 2 | Tier 1 + Redundant capacity components. | 99.741% |
| 3 | Tier 1 + Tier 2 + Dual-powered equipments and multiple uplinks. | 99.982% |
| 4 | Tier 1 + Tier 2 + Tier 3 + all components are fully fault-tolerant including uplinks, storage, chillers, HVAC systems, servers etc. Everything is dual-powered. | 99.995% |
A Tier III data center is concurrently maintainable, allowing for any planned maintenance activity of power and cooling systems to take place without disrupting the operation of computer hardware located in the data center. In terms of redundancy, Tier III offers N+1 availability. Any unplanned activity such as operational errors or spontaneous failures of infrastructure components can still cause an outage. In other words, Tier III isn't completely fault tolerant. A Tier 4 data center is fault-tolerant, allowing for the occurrence of any unplanned activity while still maintaining operations. Tier 4 facilities have no single points of failure.
What You Will Consider for Data Center Infrastructure
Behind the DC Infrastructure Consideration
• Raised Floor System:
To create a hidden void for the passage of mechanical and electrical services and help to protect the devices from humidity generated from Floor.
• Thermal Insulation System:
To control heat transfer or prevent condensation on Floor
• Electrical Infrastructure:
To cover Safety & Security, Expandability, Operational Management and electrical redundancy
• Power Backup System:
Provides emergency power to a load when the input power source or mains power fails and considered two UPS to perform Active-Active mode
• Automatic Transfer Switch:
Ensuring power redundancy for single PSU appliances and serves as an intermediary between equipment and the power supplies
• Automatic Voltage Regulator:
To provide accurately and continuously regulate voltage and minimize harmonic distortion of the power supply to maintain business productivity by minimizing disturbance notching and flicker caused by heavily switched loads, Increasing energy efficiency & power distribution network availability
• Cooling System:
To ensure temperature flow is properly functioning by reducing the overall heat to protect the equipment. Although the Precision Air Conditioning system is recommended but we have considered Comfort Air Conditioning system due to the budget constraint and offered Dehumidifier to removes excessive moisture (humidity) from the air.
• Transient Voltage Surge Suppression System:
To eliminate or reduce damage to data processing equipment and other critical equipment by limiting transient (surge) voltages and currents (surges) on electrical circuits may come from inside a facility, or may be injected into a facility from the outside.
• Fire Detection and Protection:
To detect and warn people through visual and audio appliances when smoke, fire, carbon monoxide or other emergencies are present and to extinguish or control a fire, smoke and products of a fire or any combination thereof
• Environmental Monitoring System:
To keep an eye on climate and power parameters of data centers and to facilitate alerts via Email, SMS, SNMP traps, and voice call alerts of temp, humidity, airflow, power, water detection, smoke detection, and more.
• Rodent System:
It helps in keeping the rodent away from the protected area with high-frequency ultrasonic sounds
• Surveillance System:
Used to monitor the Data Center overall security over LAN and/or Internet
• Access Control System:
To manages and controls who or what is allowed entrance to a system, environment or facility