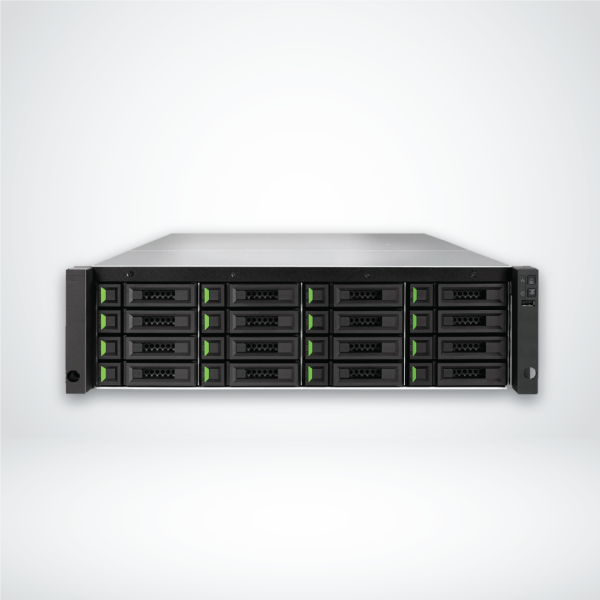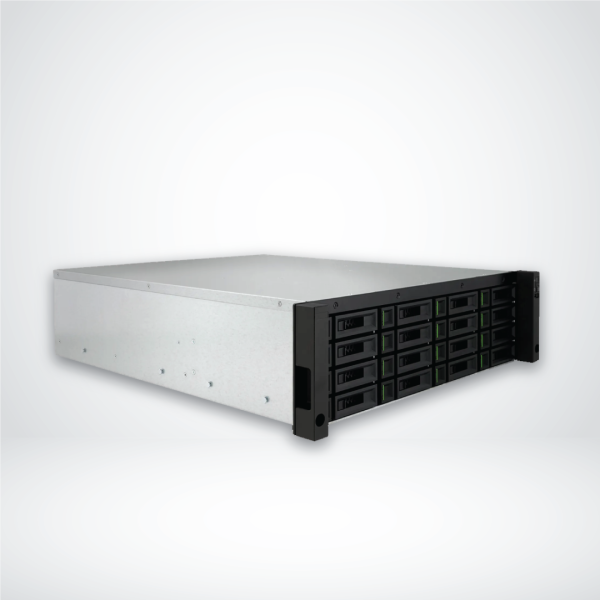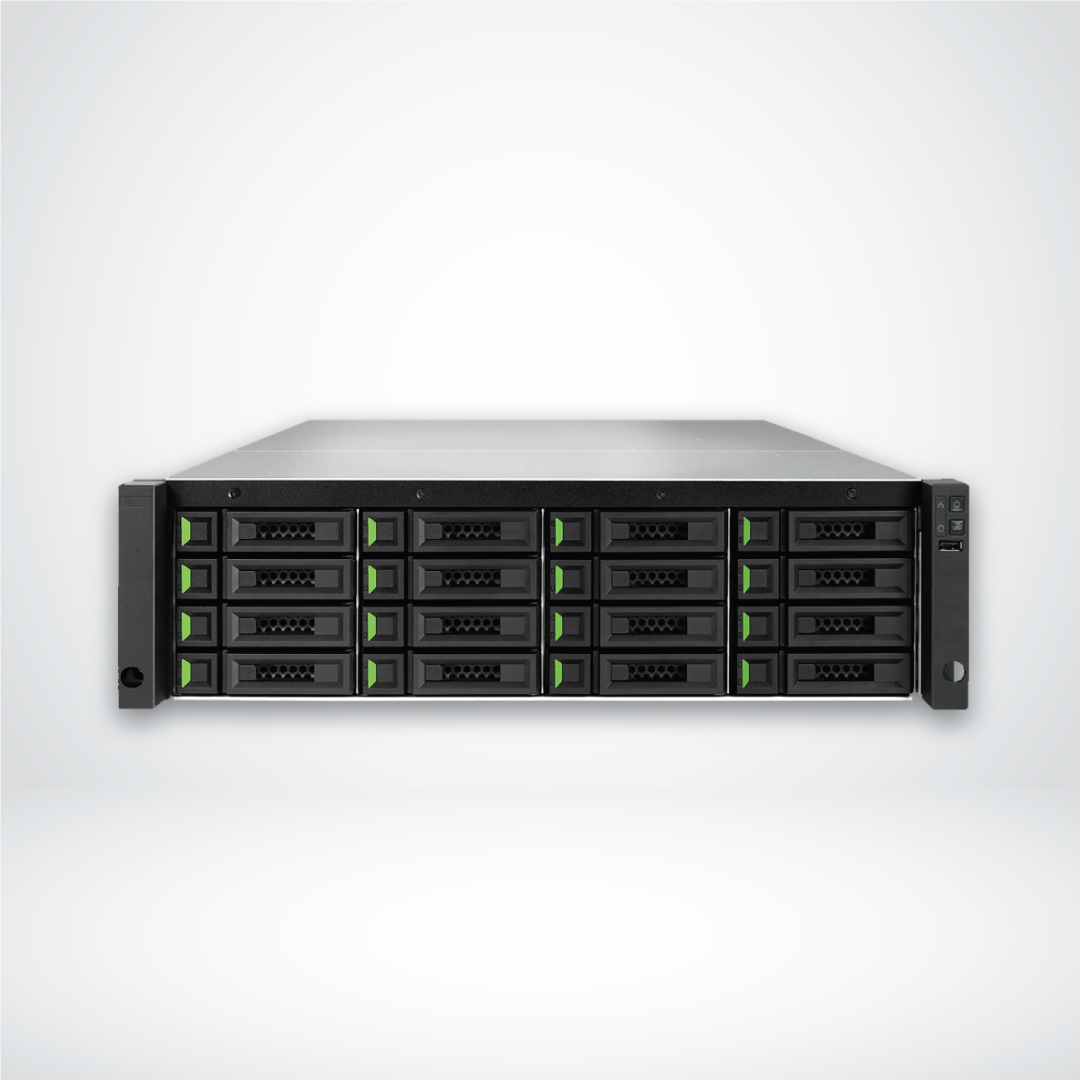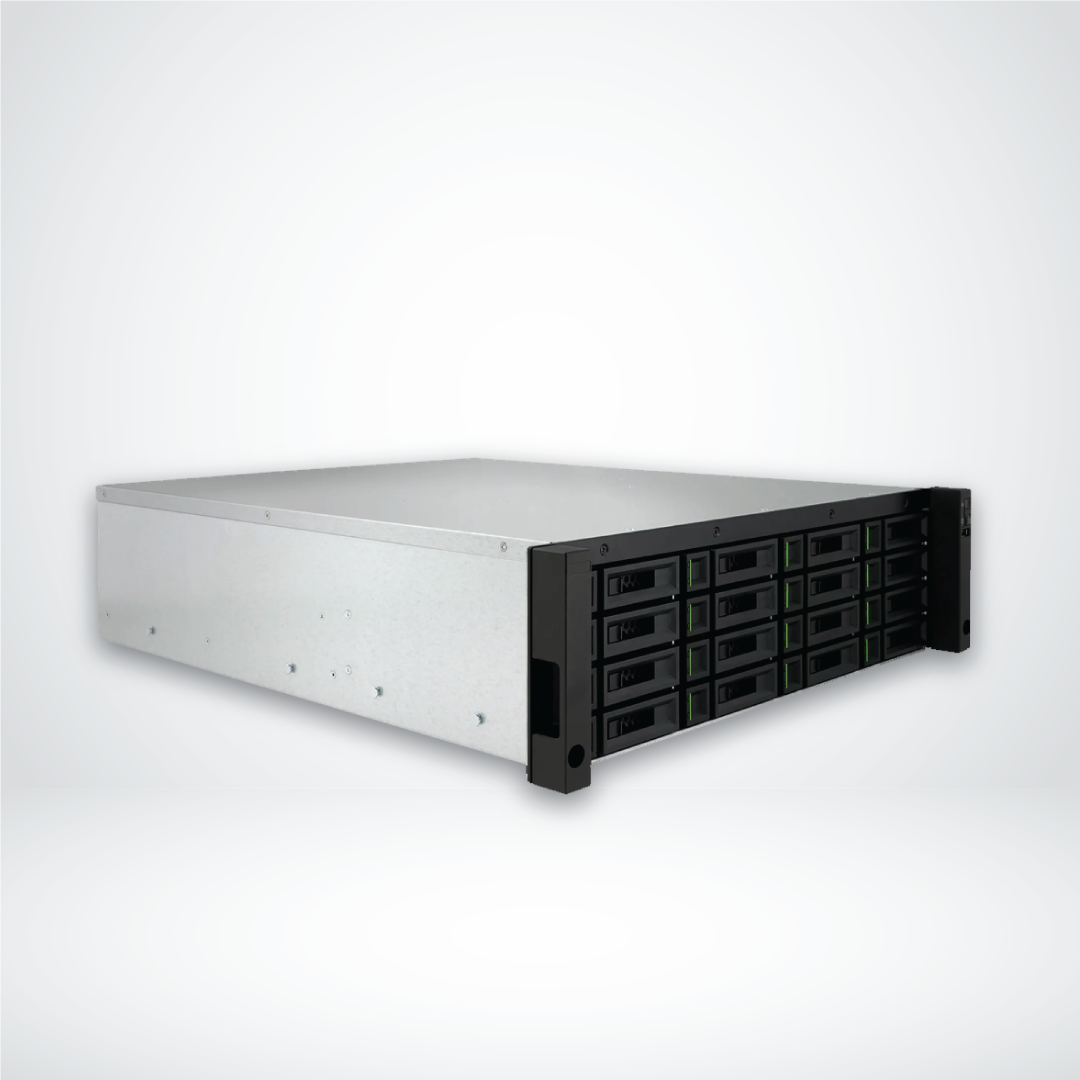 16-Bay Intel® Xeon® 2.2GHz Quad-Core CPU with Built-in 10GbE solution – XN8016R
• With High performance and expansion by using 12Gb/s technology, maximum space up to 3.3PB.
• Standard 10GbE LAN (RJ45) x 2, 12Gb/s SAS wide port x 2.
• Full modularized design – The main components including controller, power supply and fan module can be easily
replaced and upgraded.
• Fully redundant PSU (80 PLUS Platinum).
• Standard 8GB memory and maximum memory capacity support up to 128GB.
• Unified Storage-Integrated storage system supports block and file storage simultaneously and following protocols,
iSCSI, CIFS, NFS, FTP, WebDAV, 16G double-port fiber channel and AFP.
• Universal and Efficient Data Backup-XMirror supports permission backup , disaster recovery and flexible protection
between multiple NAS devices.
• Comprehensive Data Security – Pool Military level encryption with AES-256, Write Once Read Many (WORM) , SelfEncrypting Drive (SED).
• Advanced Enterprise Storage Technology-Auto-Tiering, Inline Compression, Deduplication.
Compare
Compare
Ultra-high Performance and Virtualization Ready
With Intel® Pentium® D dual-core processor, built-in 10GbE network ports and SAS wide ports, the XN8016R provides
maximum sequential write performance of up to 2,357MB/s and 4K IOPS 183,107. . Connecting with expansion units, the
XN8016 can install up to 208 disks, which brings the storage capacity support up to 3.3 PB. Fully modularized design
makes major components easily to replace and upgrade. The unify storage design brings the device to support file
storage, iSCSI and Fiber channel, which is the best choice for multi-functional data processing and data center on SMEs.
Hardware Specifications
Architecture
Single Controller
Storage OS
QSM Specification Details
CPU
Processor
Intel® Xeon®
CPU Architecture
64-bit
CPU Frequency
Quad-Core 2.2GHz (8-core processor models are also available; Model: XN8016R_8C)
Memory
System Flash
8GB SATA DOM
Memory Module Pre-installed
8GB DDR4 ECC U-DIMM
Total Memory Slots
4
Memory Expandable up to
128 GB
Notes
–
Storage
Drive Bays
3.5″ Slot x 16
Maximum Drive Bays with Expansion Unit
424
Compatible Drive Type
3.5″ SAS HDD

3.5″ SATA HDD

2.5″ SAS SSD

2.5″ SATA HDD

2.5″ SATA SSD

Drive Interface
SAS 12Gb/s and SATA 6Gb/s
(backward compatible with SAS 6Gb/s and SATA 3Gb/s)
Maximum Internal Raw Capacity
320TB
Maximum Raw Capacity with Expansion Units
8,480TB
Hot Swappable Drive
Notes

For more information, please refer to compatibility matrix and hardware manual
Maximum internal raw capacity= Max HDD capacity x 16
Capacity may vary by RAID types

External Port
USB 2.0 Port
1 (Front)
USB 3.0 Port
2 (Rear)
HDMI Port
–
Others
Console Port x1
Notes
–
Connectivity Port
1GbE RJ45 LAN Port
1 (Onboard)
4 (Option: HQ-01G4T)
10GbE RJ45 LAN Port
2 (Onboard)
2 (Option: HQ-10G2T)
10GbE SFP+ LAN Port
4 (Option: HQ-10G4S2)
25GbE SFP28 LAN Port
2 iSCSI (Option: RHCE25P2)​
Thunderbolt 3
–
16Gb SFP+ Fibre Channel
4 (Option: HQ-16F4S2)
2 (Option: HQ-16F2S2)
Notes
For more information, please refer to accessory book

Please refer to the section below for expansion slot specification

Expansion Port
12Gb/s SAS Wide Port
2 (Onboard)
Notes
–
PCIe Expansion
Gen3x8 Slot
–
Gen3x4 Slot
–
Notes
–
Host Card Expansion
Gen3x8 Slot
1
Gen2x4 Slot
1
Notes
Gen2x4 slot provides 20Gb bandwidth
Appearance
Dimension (H x W x D) (mm)
130.3 x 438 x 515
Chassis Form Factor
19″ Rackmount 3U 16 Bay
Net Weight (kg)
21.7
Gross Weight (kg)
29.1
Notes
–
Memory Protection
Cache-to-Flash Module
–
Battery Backup Module + Flash Module
–
Notes
–
Others
System Fan
80mm x 80mm x 4 pcs
Replaceable System Fan
Power Recovery
Scheduled Power On/Off
Wake on LAN/WAN
Power Supply Unit / Adapter
770W/850W x 2 (80 PLUS Platinum)
Redundant Power Supply
AC Input Power Voltage
100V-240V
Power Frequency
50-60 Hz, Single Phase
Power Consumption
203 W (Access)
200 W (HDD Hibernation)
British Thermal Unit
692 BTU/hr (Access)
681 BTU/hr (HDD Hibernation)
LCM Support
Notes
–
Environment Temperature
Operating Temperature
0 to 40°C
Storage Temperature
-10°C to 50°C
Operating Relative Humidity
20% to 80% non-condensing
Non-operating Relative Humidity
10% to 90%
Notes
–
Certification
Certifications
CE

FCC

BSMI

VCCI

SASO

EAC

RCM

Notes
–
Warranty
Standard Warranty
3 years
Notes