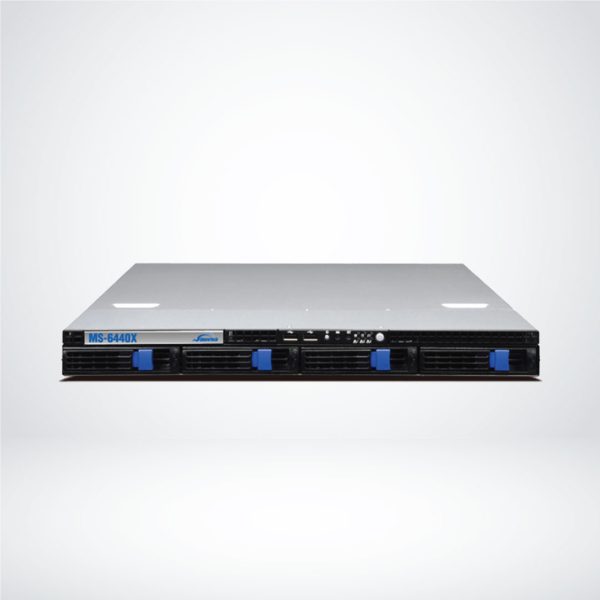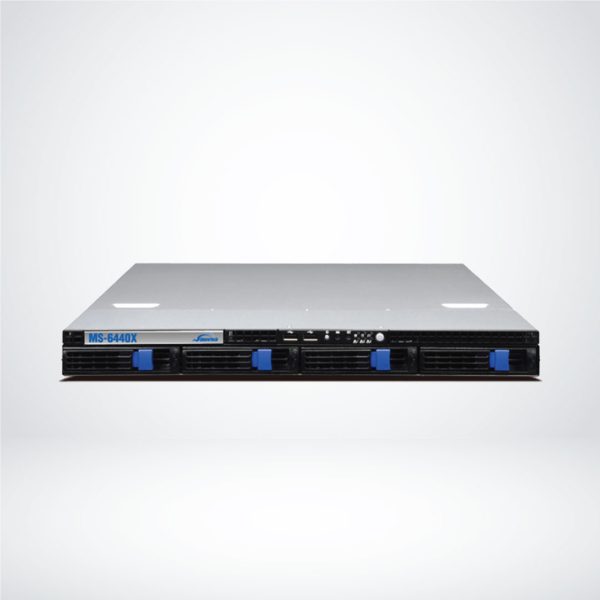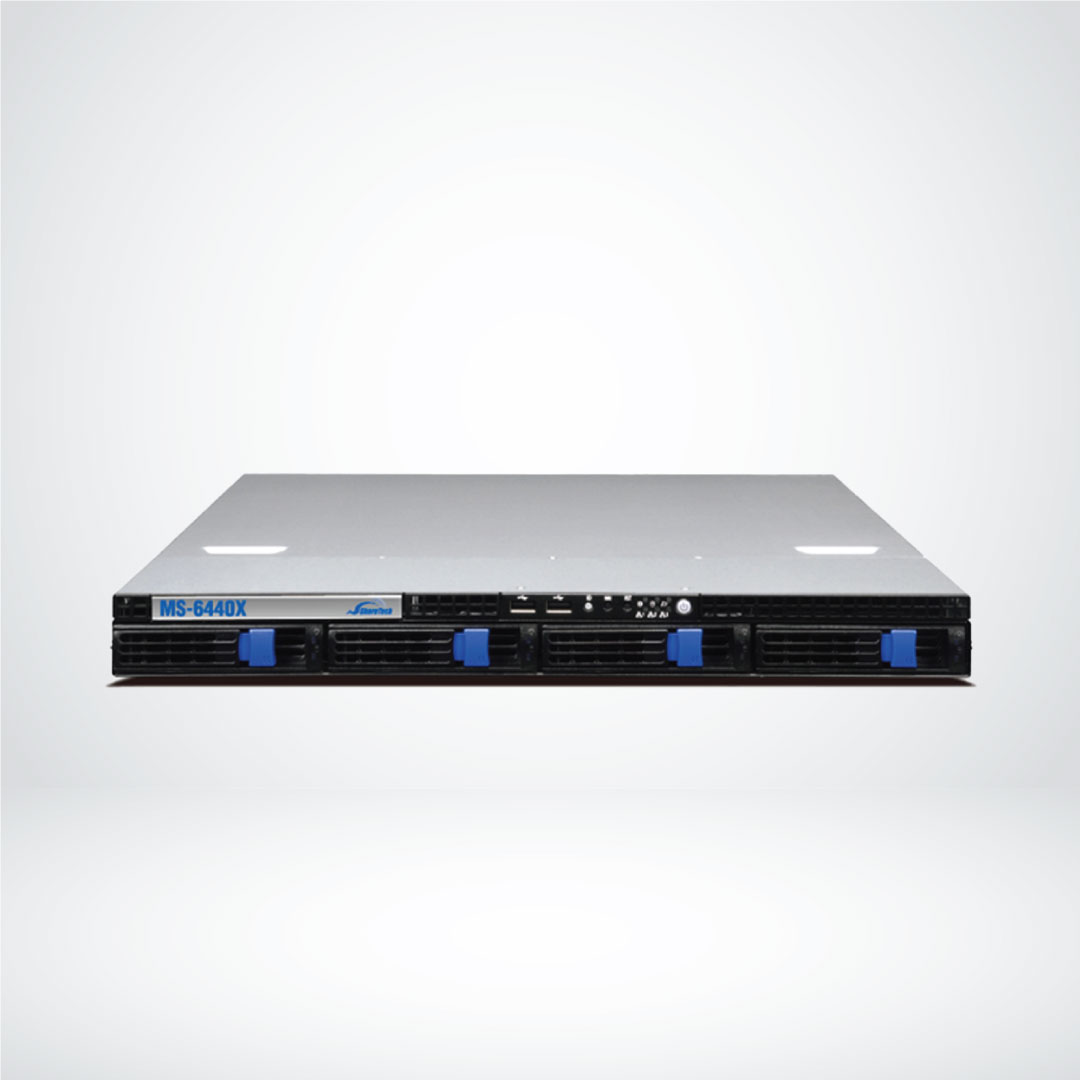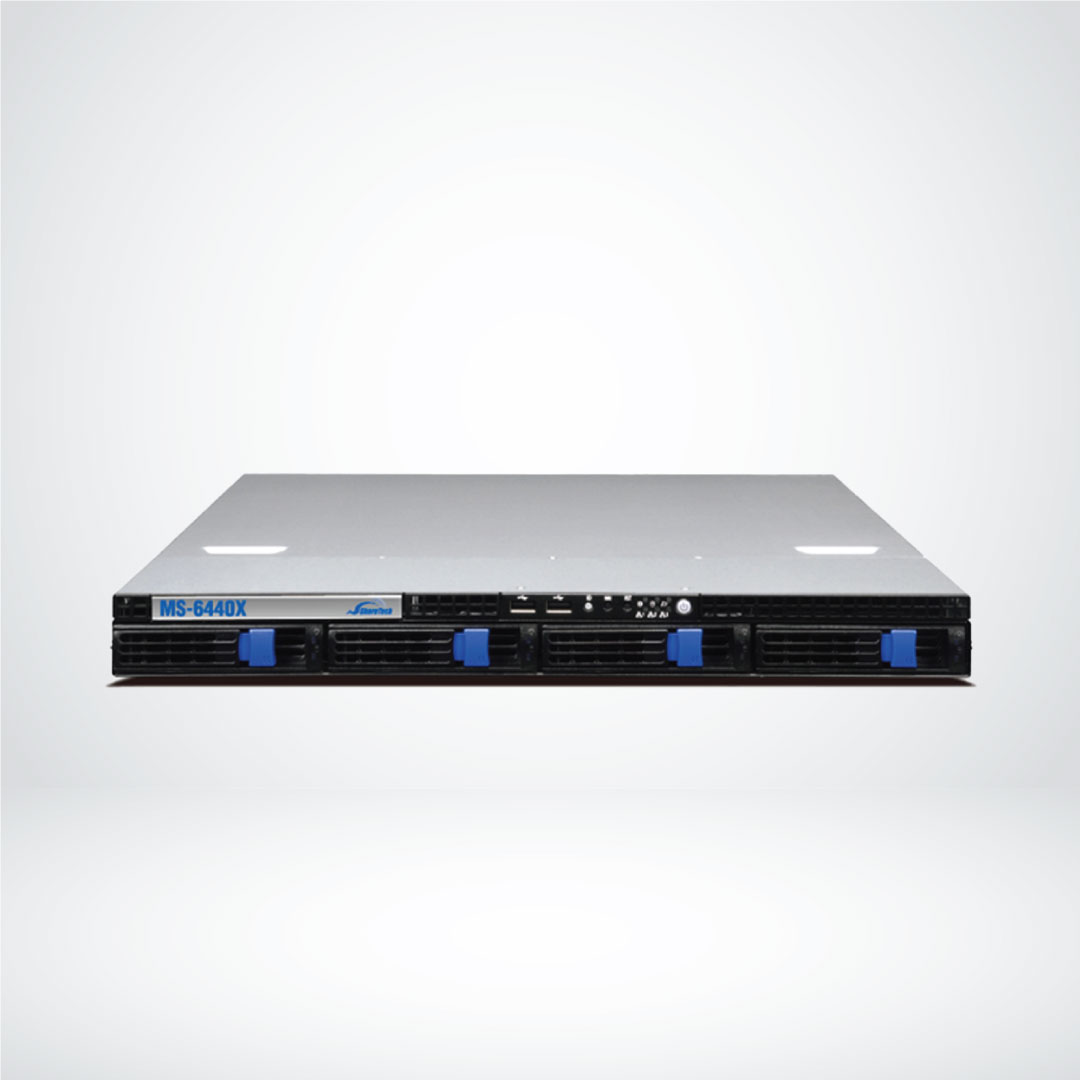 Mail Server MS-6440X
• Intel XEON E5-2609v3 2.5Ghz 4Cores CPU*1, 2TBG*3 HDD
• 8G RAM
• One-year Kaspersky
• Multiple Domains
• Certified Email
• Anti-Spam & Anti-Virus
• Mail Record
• Backup
• Shared Folder
• PushMail
• Report
• Cloud Webmail
• Distributed Architecture (client & server)
• AD Authentication
• Mail Audit
Compare
Compare
Overview
Feature
Specification
The fact that email has great importance in modern business communication is undeniable. ShareTech mail server preserves previous mail server features to install in minutes, virus-free and spam-free protection, multiple domains, mobile device synchronization, and complete mail backup to manage nuisance traffic and handle attacks hidden in bulk email. In order to keep up with the fast-growing diverse applications, MS series has the most advanced cross-platform collaboration features to benefit both administrators and users. It is a unified communication platform offer comprehensive solutions. ShareTech manages to maintain four important themes (security, audit filtering, record & backup, and cloud) to offer clients more choices and optimize business productivity and efficiency.
Increased Effectiveness of Mail Security
  Supports on 64-bit OS 3.0, high-performance x86 server platform optimized email solutions
  Uses the Clam AV anti-virus engine, 1-year Kaspersky module, and multi-layered spam filtering for email security
   Distributes server environments to use a single domain
  Flexible account authorization options to transfer duties with ease
  Supports IPv4/ v6 Dual Stack
  Users can authenticate email from addresses to see if it is the original message content from the host
  General disclaimers and digital signature can be stamped on outgoing email by centrally managing users' signatures
Mail Traffic Auditing and Monitoring
  Content-level filtering to enforce corporate email policy to be in place for employees
  Provides specific group policies for departments to use email more effectively
  Provides multiple filtering mechanisms to protect sensitive personal information from leakage
  Policy-based email auditing for inbound or outbound email
Record-Based Mail Backup and Restore
  Records content of all emails and provides fast lookup
  Automatic backup can be scheduled and performed
  Disaster recovery system provides full data backup and restores capabilities.
  Protects business data with Offsite Backup
  Supports High Availability (HA) to continue service when system components fail
Personal Webmail Use
  Mailbox quota can reach 100G for a single user
  Creates accounts by using account application which accounts can be enabled right after your registration being activated
  Mail APP syncs contacts and calendars with a smartphone
  Users can easily access all Cloud HDD (shared folders)
  Events can be scheduled in both personal and group calendars
  Delayed email delivery to avoid sending accidentally embarrassing messages
   Provides personalized signatures, automatic reply, automatic forward, POP3 Proxy, and customized email address policies.
Mail Firewall
Inbuilt firewall manages and filters all inbound and outbound email traffic to protect organizations from email-based threats. Added detections such as anomaly flow, authentication failures, and sender confirmation deliver deeper levels of protection for defeating today's increasingly complex attacks.
IPv4/v6 Dual Stack
ShareTech mail server has access to IPv4-only, IPv6-only, or both IPv4 and IPv6 technology available and connects to remote servers and destinations in parallel. The protocol will be selected based upon the IP addresses received within a DNS response.
Protection against Ransomware
Transport rules provide the ability to examine email subjects, attachments (zip/rar), and file extension as defense against the ransomware attack. Additionally, built-in URL database is provided to block fast-spreading ransomware threats delivered through malicious attachments and URLs.
SMTP TLS for Email Transmission
No matter users read email messages using SMTP, POP3, or IMAP, TLS can help to secure transmitted data using encryption. It also authenticates servers and clients to prove the identities of parties engaged in secure communication.
Email Compression and Encryption
Email compression and encryption can provide industries stronger level of protection between gateway and individual endpoints. Administrators may select users to convert .eml mail messages to PDF files or simply encrypt and compress email attachments to protect sending sensitive data over email. Recipients can use a permissions password to access the file and view the original email and its attachment(s) in PDF Reader.
System Backup and Disaster Recovery
Users can restore the configuration files to a USB drive. When regular operations are interrupted, a disaster recovery operation can be performed. If the mail server does not boot from the installed image, it can be booted using a USB drive. Moreover, when the mail server is operating normally, the installed image can be upgraded by performing a USB boot operation.
Mail Record and Backup
Incoming and outgoing mail including attachments will be automatically and timely backed up to a local disk, the network neighborhoods or a remote FTP server. Administrators can easily monitor email traffics by searching keywords and reasons behind blocking.
Multi-Layered Spam Filtering
ShareTech mail server employs multi-layered spam filtering including keyword/hyperlink filtering, multi-RBL lookup, auto-learning, ST-IP network rating, Greylist, Bayesian Filtering, Fingerprinting, and spam characteristics to filter out unwanted bulk email message before network being clogged. Personal Black/White list can be defined and enforced in flexible policies for high accuracy spam filtering. Actions such as forward, delete, and block can be performed to certain mail that triggered the filtering rules.
Mail Content Filtering
ShareTech mail server can filter out inappropriate content as defined by your organization's acceptable use policy. Policies can be set up, specifying which mail to allow, block, quarantine, delete, block sender's IP, send notification, or send carbon copies. Its inbound filtering engine is capable to detect spam and malware by costuming signature keywords and specific domains before it can affect your users.
Mail Gateway
When coupled with industry leading real-time antivirus and spam scanning, ShareTech mail server provides fast and accurate email security that won't affect end users or delay their communications. Appliances can be deployed on-premises and gateway to defend your mission-critical email systems.
Role-Based Administration
In large organizations, it is likely that administrator level access is granted to more than one person. Role-based system administration can assign administrators different levels of access privileges and items such as mail record, account management, system management, logging, auditing, statistics, POP3 proxy, etc.
Distributed Architecture
The architecture provides multi spots and capacity to handle mass mail for enterprises, governments or schools. Users from different departments can send/receive mail through the sub mail server whose database, accounts, and mail record in sync with the primary server.
High Availability (HA)
ShareTech mail server offers additional survivability-never-fail network. Slave server will take over the master server to ensure email service continuity once device failure occurs.
Cloud HDD (Shared Folders)
ShareTech mail server supports web disk-like platform which gives users the ability to store, synchronize, and share content on a relative core and assign access permission from any device. Users have an individual storage space to create folders, download/upload files and categorize data into preferred management.
Anti-Virus
Clam AV is provided for virus scanning which can detect over millions of viruses, worms, and Trojans. Once suspicious emails are detected, the administrator can decide to delete or block them. Moreover, websites will be scanned once the function of anti-virus is enabled in policy. Customers may choose to purchase a Kaspersky module for their security needs. (Models for large enterprises contain 1-year Kaspersky license.)
Hassle-Free Email Migration
Replacement can be alleviated by supporting a phased migration while systems are being replaced. Existing user accounts and email can be imported within a few minutes without worries of message loss due to human errors or domain migration. Administrators can create users accounts automatically, manually or integrate with AD servers.
Offsite Backup
Offsite backups can be managed by installing mail servers both at headquarters and branch offices. The solution can prevent your email delivery from going down in the event of a server failure. The other server is designed to run service continuously and capture changes in real-time.
Certified Mail
The purpose of email authentication is to validate the identities of the Administrative Management Domain (ADMDs) who participated in transferring and possibly modifying a message. Users' email can be digitally signed with an electronic stamp. The digital signature is published for anyone to read at any time. Should you need to prove at some later stage that you sent your email, the attached signatures provide admissible certifiable proof that your email was posted on the date and time specified.
Statistics Reports
A scheduled statistic report can include Top N traffics, POP3 traffic, personal information, mail distribution, quarantined messages, worst passwords ranking, sources of spam mail, etc. Administrators can modify reporting properties and customize display of reports for your business requirements.
Webmail
ShareTech equips users with Outlook-like Webmail, a browser-based (as the default HTTP and HTTPS handler) multilingual IMAP client with an application-like user interface. Webmail has additional user-friendly features for managing your e-mail, such as preview, login auth., drag-and-drop, mail content-type related, quick content lookup, personal rules, personal signature, multi-layer folders, shared folders, auto-reply/forward, and delayed delivery.
Calendar
Webmail calendar allows you to manage your appointments via drag & drop and inline editing. It also supports calendar overlays to allow simultaneous viewing (side-by-side) of shared calendars. ShareTech provides APP to sync Webmail with smart devices (eg. iPhones, iPads, Androids), your appointments are synchronized automatically wherever you are, and always up to date.
Hard Disk Health Checker
Not all hard drive crashes are random. The solution proactively monitors a number of parameters on a hard drive and effectively warn you when certain parameters are degrading or reaching their threshold. Users are given more time to store data safely and backup important files.
Email Routing
If a server is listed in one of the RBLs or due to other reasons that users are restricted from being able to send emails to external recipients, email service can be redirected to other servers. Messages can still be delivered to original recipients during the blacklist period, which helps an organization keep track of important emails.
POP3 Proxy
POP supports simple download-and-delete requirements for access to remote mailboxes. Email clients are allowed to access the same message in different POP sessions. ShareTech mail server acts as a stand-alone messaging server with full SMTP email server functionality, including flexible support for secure POP3, IMAP, and WebMail access.
Personal Data Protection
ShareTech mail server provides protection for personally identifiable information such as ID number, credit card number, phone number, mobile number, and date of birth. Whether it is employee data or customer data, companies have an obligation to protect the personal information stored on their network.
Features
Description
Basic Settings
1.        Installation completed in minutes by adding host name, domain name, DNS and migrating accounts

2.        Distributed architecture operated in master and slave mode

3.        Multi-domains and company-wide automatic email signatures

4.        When server authentication is completed, SSL-secured communication and Start-TLS commands are supported to transfer email.

5.        Quarantine management

6.        Restricts the number of recipients

7.        Authentication identifier

8.        Sends large files with hyperlinks

9.        Supports secure HTTPS and SSL connections

10.    Incoming emails can be automatically or periodically forwarded or routed all to another email account of your choice.

11.    Web-based administration includes port number allocated for administrators and users, SMTPS, POP3, POP3S, IMAP, IMAPS, DNS, Webmail, Push Mail, etc.

12.    Email authentication

13.    POP3 servers support both client-side and server-side.

Mail Firewall
1.        Mass-mailing activities and attacker's source IP addresses can be clocked directly.

2.        Anomaly detection

3.        Blocks dictionary attack which attackers try to guess a users' accounts and passwords

4.        Checks consistency between email headers and reported sender

5.        Blocks traffic hierarchically

Audit Filtering
1.        Policies can be set up to specify which mail to allow, block, quarantine, delete, block sender's IP, send notification, or send carbon copies.

2.        Administrators can authorize email administrators to process important email according to organization's policies.

3.        Personally identifiable information includes ID number, credit card number, phone number, mobile number, and date of birth.

4.        Audits incoming and outgoing email

Mail Record
1.       Email record

2.       No backup for internal mailing

3.       Record lookup

Anti-Virus

1.        ClamAV anti-virus engine

2.        Anti-virus engines scan incoming and outgoing mail. Administrators are allowed to quarantine the virus infected mail, change its file extension, or receive notification.

3.      Kaspersky module (Optional); built-in 1 year for MS-6440X

Kas

Spam Filtering
1.     Multi-layered spam filtering including ST-IP networking rating, Bayesian Filtering, Bayesian auto-learning, Fingerprinting, and spam characteristics, etc.

2.        Auto-learning for spam filtering

3.        System Black/White Listing

4.        Personal Black/White Listing

5.        Greylisting

6.        IP Reverse

7.        Spam processing and notification

Account Management
1.        Accounts can be created by using multiple account applications. Administrators can create users accounts automatically, manually or integration with AD servers.

2.        Group account management

3.        Department accounts

4.        Self-service account creation application

5.        Password expiration periods

Logging & Reporting
1.        Detailed logging includes WebMail login and administration. Search interface allows you to lookup Email, SMTP, lists, events, blocking, shared folders, account application, download hyperlink, system, POP3, auditing, personal data, certified email, etc. Supports for full-text search (FTS)

2.        Logging of blocked mail

3.        Log-storage period

4.        Flow statistics

5.        A rich set of reports on log, mail traffics, mail distribution, Top N ranking, etc

Mail & System Backup
1.       Data backup via Samba, FTP, or USB flash drives

2.       Source data can be backed up to different folders, at different intervals, to maintain multiple copies

3.       Selects what data gets backed up

4.       Scheduled backup

5.       USB instant recovery

6.       System recovery

System Management
1.     IPv4 / v6 Dual Stack

2.     Real-time view of system information

3.     Privileged account management

4.     Shared contacts

5.     Scheduled firmware update

6.     A variety of diagnostics tools

7.     Mailbox quota can reach 100G for a single user

8.     High Availability (HA)

Others
1.        Supports E-paper system

2.        Organization units can change device name and display your company logo.

3.        Dual Stack DNS Servers

4.        Restores mailboxes and individual email messages

5.        Supports for multi-language interface (Traditional Chinese, Simplified Chinese ,and English)

6.        Supports auto converting MS-TNEF (winmail.dat) attachment by Webmail

7.        Supports Push mail