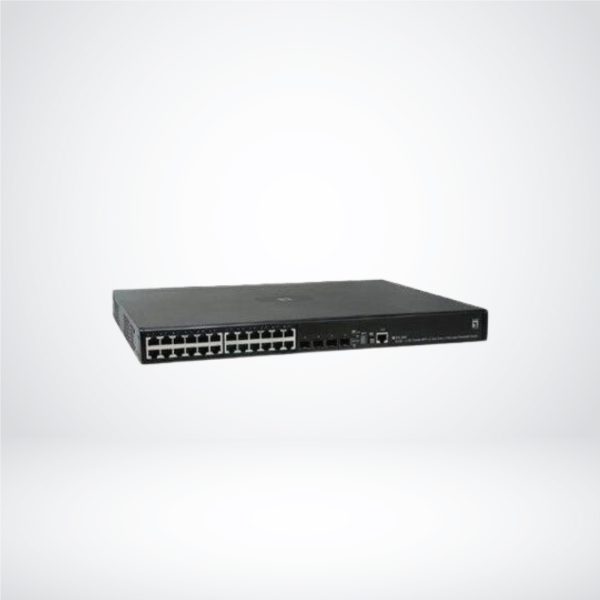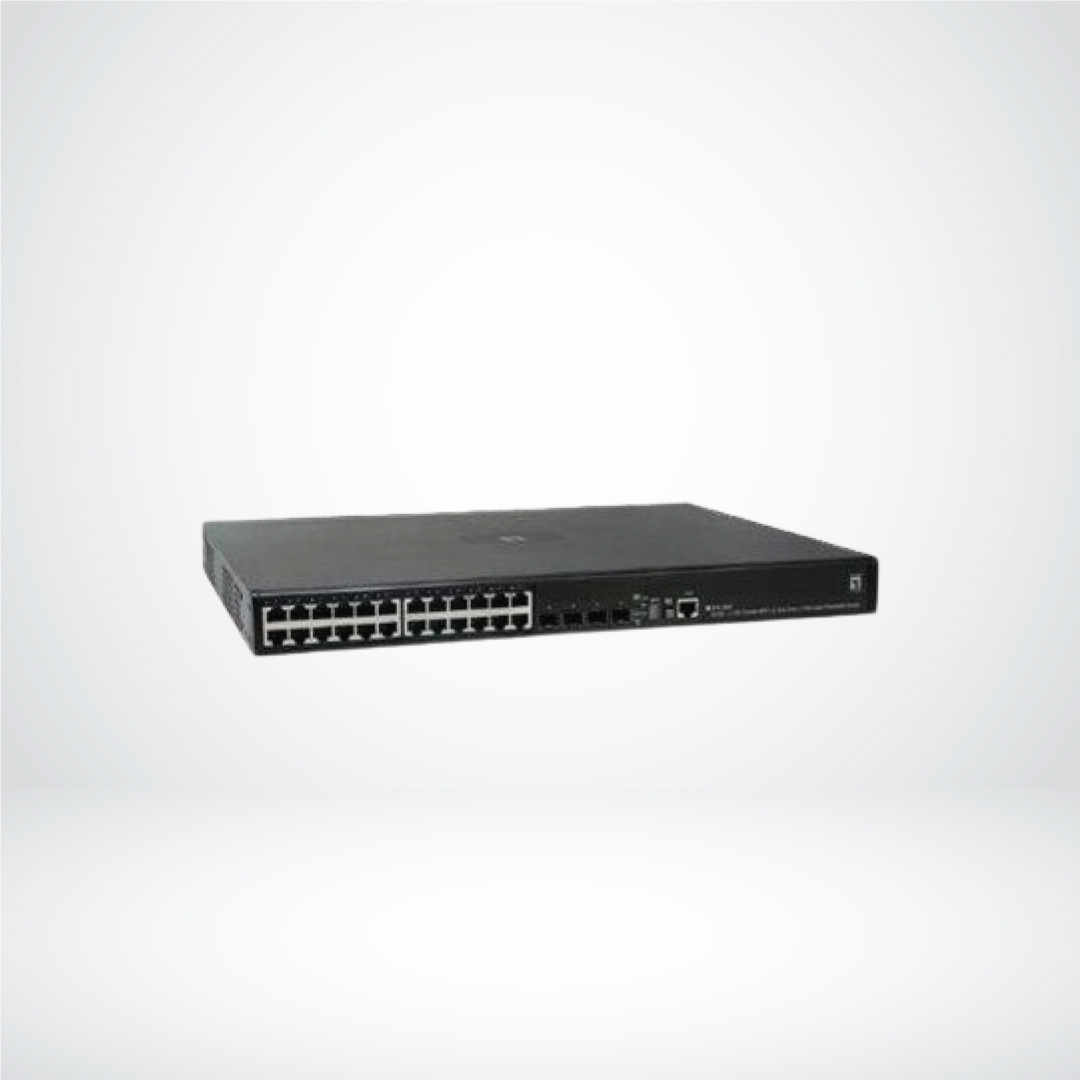 24 Gigabit with 4 shared SFP and 2 10-Gigabit Stackable L3 Managed Gigabit Switch – GTL-2691
This switch provides a broad range of features for Layer 2 switching and
Layer 3 routing. It includes a management agent that allows you to
configure the features listed in this manual. The default configuration can
be used for most of the features provided by this switch. However, there
are many options that you should configure to maximize the switch's
performance for your particular network environment.
Compare
Compare
Configuration Backup and Restore
• Using management station or FTP/TFTP server
Authentication
•Console, Telnet, web – user name/password, RADIUS, TACACS+
• Port – IEEE 802.1X, MAC address filtering
• SNMP v1/2c – Community strings
• SNMP version 3 – MD5 or SHA password
•Telnet – SSH
• Web – HTTPS
General Security Measures
• AAA
• ARP inspection
• DHCP Snooping (with Option 82 relay information)
• IP Source Guard
• Private VLANs
• Port Authentication – IEEE 802.1X
• Port Security – MAC address filtering
Access Control Lists
• Supports up to 256 ACLs, 96 MAC rules, 96 IP rules, and 96 IPv6 rules
DHCP
• Client, Relay, Server
DNS
• Client and Proxy service
Port Configuration
• Speed and duplex mode and flow control
Port Trunking
• Supports up to 25 trunks per switch (32 per stack) – static or dynamic trunking (LACP)
Port Mirroring
• 26 sessions, across switch or stack, one or more source ports to one analysis port
Congestion Control
• Rate Limiting
• Throttling for broadcast storms
Address Table
• Up to 16K MAC addresses in the forwarding table, 1024 static MAC
addresses;
• Up to 8K IPv4 and 4K IPv6 entries in the host table;
• 8K entries in the ARP cache, 256 static ARP entries;
• 8K IPv4 and 4K IPv6 entries in the IP routing table, 512 static IP
routes, 512 IP interfaces;
• 1024 L2 multicast groups
IP Version 4 and 6
• Supports IPv4 and IPv6 addressing, and management
IEEE 802.1D Bridge
• Supports dynamic data switching and addresses learning
Store-and-Forward Switching
• Supported to ensure wire-speed switching while eliminating bad
frames
Spanning Tree Algorithm
• Supports standard STP, Rapid Spanning Tree Protocol (RSTP), and
• Multiple Spanning Trees (MSTP)
Virtual LANs
• Up to 256 using IEEE 802.1Q, port-based, protocol-based, private VLANs, voice VLANs, and QinQ tunnel
Traffic Prioritization
• Default port priority, traffic class map, queue scheduling, IP
Precedence, or Differentiated Services Code Point (DSCP), and TCP/UDP Port
Qualify of Service
Supports Differentiated Services (DiffServ)
Switch Clustering
• Supports up to 16 member switches in a cluster
Router Redundancy
• Router backup is provided with the Virtual Router Redundancy Protocol (VRRP)
IP Routing
Routing Information Protocol (RIP), Open Shortest Path First (OSPFv2/v3), static routes, Equal-Cost Multipath Routing (ECMP)
ARP
• Static and dynamic address configuration, proxy ARP
Multicast Filtering
• Supports IGMP snooping and query for Layer 2, MLD snooping and query, IGMP for Layer 3, and Muticast VLAN Registration
Multicast Routing
• Supports PIM-DM and PIM-SM for IPv4 and PIM-DM for IPv6
STANDARDS

IEEE 802.1AB Link Layer Discovery Protocol IEEE 802.1D-2004 Spanning Tree Algorithm and traffic priorities

Spanning Tree Protocol

Rapid Spanning Tree Protocol

Multiple Spanning Tree Protocol I

EEE 802.1p Priority tags

IEEE 802.1Q VLAN

IEEE 802.1v Protocol-based VLANs

IEEE 802.1X Port Authentication

IEEE 802.3-2005

Ethernet, Fast Ethernet, Gigabit Ethernet, and 10 Gigabit Ethernet (fiber and short-haul copper)

Link Aggregation Control Protocol (LACP) Full-duplex flow control (ISO/IEC 8802-3) IEEE 802.3ac VLAN tagging

IEEE 802.1ag Connectivity Fault Management (Amendment 5, D7.1)

ARP (RFC 826)

DHCP Client (RFC 2131)

DHCP Relay (RFC 951, 2132, 3046)

DHCP Server (RFC 2131, 2132)

HTTPS

ICMP (RFC 792)

IGMP (RFC 1112)

IGMPv2 (RFC 2236)

IGMPv3 (RFC 3376) – partial support
IGMP Proxy (RFC 4541)
IPv4 IGMP (RFC 3228)
MLD Snooping (RFC 4541)
NTP (RFC 1305)
OSPF (RFC 2328, 2178, 1587)
OSPFv3 (RFC 2740)
RADIUS+ (RFC 2618)
RIPv1 (RFC 1058)
RIPv2 (RFC 2453)
RIPv2, extension (RFC 1724)
RMON (RFC 2819 groups 1,2,3,9)
SNMP (RFC 1157)
SNMPv2c (RFC 1901, 2571)
SNMPv3 (RFC DRAFT 2273, 2576, 3410, 3411, 3413, 3414, 3415)
SNTP (RFC 2030)
SSH (Version 2.0)
TELNET (RFC 854, 855, 856)

TFTP (RFC 1350)

VRRP (RFC 3768)

Bridge MIB (RFC 1493)
Differentiated Services MIB (RFC 3289)
DNS Resolver MIB (RFC 1612)
Entity MIB (RFC 2737)
Ether-like MIB (RFC 2665)
Extended Bridge MIB (RFC 2674)
Extensible SNMP Agents MIB (RFC 2742)
Forwarding Table MIB (RFC 2096)
IGMP MIB (RFC 2933)
Interface Group MIB (RFC 2233)
Interfaces Evolution MIB (RFC 2863)
IP MIB (RFC 2011)
IP Forwarding Table MIB (RFC 2096)
IP Multicasting related MIBs
IPV6-MIB (RFC 2065)
IPV6-ICMP-MIB (RFC 2066)
IPV6-TCP-MIB (RFC 2052)
IPV6-UDP-MIB (RFC2054)
MAU MIB (RFC 3636)

MIB II (RFC 1213)
OSPF MIB (RFC 1850)
OSPFv3 MIB (draft-ietf-ospf-ospfv3-mib-15.txt)
P-Bridge MIB (RFC 2674P)
Port Access Entity MIB (IEEE 802.1X)
Port Access Entity Equipment MIB
Private MIB
Q-Bridge MIB (RFC 2674Q)
QinQ Tunneling (IEEE 802.1ad Provider Bridges)
Quality of Service MIB
RADIUS Accounting Server MIB (RFC 2621)
RADIUS Authentication Client MIB (RFC 2619)
RIP1 MIB (RFC 1058)
RIP2 MIB (RFC 2453)
RIP2 Extension (RFC1724)
RMON MIB (RFC 2819)
RMON II Probe Configuration Group (RFC 2021, partial implementation)
SNMP Community MIB (RFC 3584)
SNMP Framework MIB (RFC 3411)
SNMP-MPD MIB (RFC 3412)
SNMP Target MIB, SNMP Notification MIB (RFC 3413)
SNMP User-Based SM MIB (RFC 3414)
SNMP View Based ACM MIB (RFC 3415)
SNMPv2 IP MIB (RFC 2011)
TACACS+ Authentication Client MIB
TCP MIB (RFC 2012)
Trap (RFC 1215)
UDP MIB (RFC 2013)
VRRP MIB (RFC 2787)