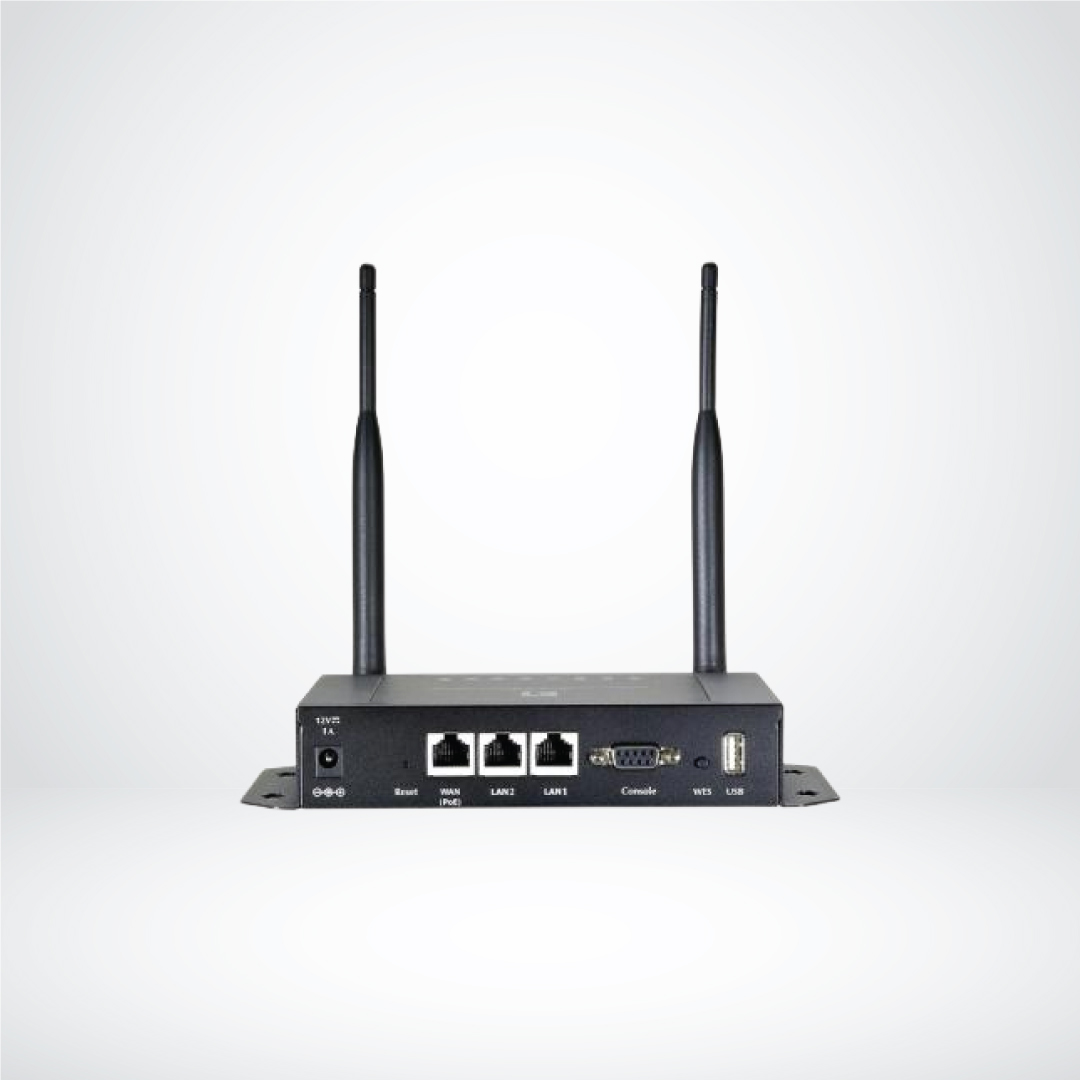 300Mbps Wireless PoE Hotspot Gateway – WHG-1000
• Property management system integration for hotel
applications
• Integrated Authentication, Authorization and Accounting
(AAA) server
• Multiple authentication methods for pre-generated ticket,
on-demand, local/remote RADIUS and LDAP
• Dual WAN interfaces with auto-failover function to ensure
an always-on connectivity
• Compatible with IEEE 802.11b/g/n wireless standards
• Built-in 3,069 local accounts and 3,069 on-demand
accounts
• Comprehensive access control and user management
• Supports for location-based hotspot services and
customizable UAM web pages
• Simple generation of user accounts with built-in online
payment such as credit card or PayPal
• Powerful network security capabilities for enterprise
applications
• Simplified deployment and reliable Internet connection
• Supports IP Plug and Play (IP PnP) for instant network
connectivity
Compare
Compare
The WHG-1000 is the most economical yet feature-rich Wireless Hotspot Gateway, targeting mini-size
stores who want to provide small, single-point wireless Internet access service. WHG-1000 is a perfect
choice for beginners to run hotspot businesses. It does not cost a fortune to buy a pile of equipment,
nor does it take the skills of an expert to glue multiple applications out of multiple freeware. Featurepacked for hotspot operation, WHG-1000 comes with built-in 802.11n/b/g access point, web server
and web pages for clients to login, easy logo-loading for branding a hotspot store, simple
user/visitor account management tool, payment plans, PayPal credit card gateway, traffic logs,
IP sharing and etc.
CPU
400 MHz, AR7240+AR9283
Flash
16Mbytes
SDRAM
64 Mbytes
Interface
■     Metal case compliant with IP50 Standard

■     WAN Port: 2 x 10/100 Base-T PoE compliant with iEEE 802.3af
■     LAN Port: 1 x 10/100 Base-T PoE compliant with iEEE 802.3af
■     Console Port : 1 x D89
■     USB Port : 1
■     LED Indicators: 1 x Power, 2 x WAN, 1 x LAN, 1 x Status, 1 x Printer
■     Antenna: 2 x 5dBi detachable (SMA Connector) field
  replaceable Antenna

Dual WAN

■     Load Balancing
–  Outbound Fault Tolerance and loadbalance
–  Multiple Domain Support
–  By Traffic
■     Bandwidth Management by individual and users group
■     WAN Connection Detection

Power
100~240VAC, 50~60 Hz, DC 12V/1A
 
Dimensions (W x D x H mm)
204 x 134 x35 mm
Weight (g)
610g
Temperature (°C)
Operating: -20 ~ 50 °C

Storage: -20 ~ 60 °C

Humidity (Non-condensing)
Operation: 10%~80

Storage: 5%~90

Approval
CE, FCC, RoHS compliant
Network
■     Support NAT or Router Mode

■     Support static IP , Dynamic IP(DHCP Client ), PPPoE and PPTP on WAN connection

■     DHCP Server Per VLAN; Multiple DHCP Networks

■     802.3 Bridging

■     Proxy DNS/Dynamic DNS

■     NAT:

–   IP/Port destination redirection

–   DMZ server mapping

–   Virtual server mapping

–   H.323 pass-through

■     Built-in with DHCP server

■     Support Static Routing

■     NTP Client

■     Vitual DMZ

■     Virtual Server (IP /Port Forwarding)

■     Binding VLAN with Ethernet and Wireless interface

–   The network is divided into maximum 8 group, each defined

by a pair of VLAN tag and ESSID Each Domain has its own

(1)  login portal page (2) authentication options (3) LAN interface IP address range

–  Each Domain allows access to the selected groups and assigns a network policy to each user group

–  Support VLAN Tag over WDS

■     PPTP, IPSec Pass-through

■     Support MAC and IP Filter

■     Support Walled garden (free surfing zone)

■     Support MAC-address and IP –address pass through

■     Support configurable static routes

■     Support SIP pass-throughput NAT

■     Support IP Plug and Play (IP PnP )

Security

 

■     Layer 2 User and AP Isolation

■     Blocks client to client discovery within a specified VLAN

■     Setting for TKIP/CCMP/AES key's refreshing periodically

■     Hidden ESSID support

■     Setting for " Deny Any " connection request

■     MAC Address Filtering (MAC ACL)

■     Support Data Encryption : WEP(64/128-bit), WAP, WAP2

■     Support various authentication methods : WPA-PSK, WPA-RADIUS, IEEE802.1X

■     Support VPN pass-thourghput

User Management

 

■     Suggest 100 simultaneous authentication users

■     Max 3069 Accounts

■     Support Pre-generated Users, On-Demand Users and Local Radius Accounts.

■     Users Session Management

■     Configurable user Black list ( with Time-based control)

■     Allows MAC address and user identity binding for local user authentication

■     SSL protected login portal page

■     Supports multiple login with one single account

■     Session idle timer

■     Login Session idle time out setting

■     Session and account expiration control

■     Notification email to provide a hyperlink to login portal page

■     User Log and traffic statistic notification via automatically email service

■     Login time frame control

■     Session limit

■     Real-Time Online Users Traffic Statistic Reporting

■     Support local account roaming

■     Seamless Mobility : User-centric networking manages wired and wireless users as they roam between ports or wireless AP

  Monitoring and Reporting

System Administration

 

■     Intuitive Web Management Interface

■     Three administrator accounts

■     Provide customizable login and logout portal page

■     CLI access (Remote Management) via Telnet and SSH

■     Remote firmware upgrade (via Web)

■     Utilities to backup and restore the system configuration

■     Remote Link Test – Display connect statistics

■     Full Statistics and Status Reporting

■     Real time traffic monitor

■     Ping Watchdog

■     Even Syslog

■     Remote Syslog reporting to external server

■     SNMP v1, v2c,v3

■     SNMP Traps to a list of IP Address

■     Support MIB-II

■     Support Static Routing

■     Spanning Tree Protocol

■     NTP Time Synchronization

■     Administrative Access : HTTP / HTTPS

Accounting

 

■     Provides billing plans for pre-setting accounts

■     Provides billing plans for on-demand accounts

■     Enables session expiration control for On-demand accounts by time(Hours) Detailed per-user traffic history based on time

and data volume for both local and on-demand accounts

■     Support local on-demand and external RADIUS server

■     Contain 10 configurable billing plans for on-demand accounts

■     Support credit card billing system by Authorize.net and Papal

■     Provide session expiration control for on-demand accounts

■     Support automatic email network traffic history

Wireless

 

■     Transmission power control : 7 Levels

■     Channel selection : Manual or Auto

■     No. of associated clients per AP : 32

■     Setting for max no associated clients : Yes

■     No. of BBSID (Virtual AP) : 8

■     No. of Max. WDS setting : 4

■     Preamble setting : Short / Long

■     Setting for 802.11b/g/n mix, 802.11b only or 802.11 b/g only or 802.11n only

■     Setting fortransmission speed

■     IEEE802.11f IAPP ( Inter Access Point Protocol ), hand over users to another AP

■     IEEE802.11i Preauth (PMSKA Cache)

■     IEEE802.11d Multi country roaming

■     Automatic channel assignment

■     Coordinated Access ensures optimal performance of nearby AP on the same channel

■     Secure wireless bridge connects access points without wire

■     Monitoring and reporting

■     IP-Based monitoring of network devices

■     Uplink(WAN) connection failure alert

■     Support Syslog for diagnosis and troubleshooting by email

■     Traffic history report via email to administrator

■     Users' session log can be sent by email or Syslog server

Authentication

 

■     Authentication: single sign-on (SSO) client with authentication integrated into the local authentication environment through local/domain, LDAP, RADIUS, MAC authentication, and 802.1x

–  Customizable Login and Logout Portal Pages

–  Customizable Advertisement Links on Login Portal Page

■     User authentication with UAM (Universal Access Method), 802.1x /EAPoLAN ,MAC address

■     No. Of Registered RADIUS Servers : 2

■     Support MAC control list (ACL )

■     Support auto-expierd guest accounts

■     Users can be divided into user groups

■     Each user group has its own network properties, including bandwidth, QoS, WMM traffic

■     Each group (role) get different network policies in different service domain

■     Max simulanous user session (TCP/UDP) limit

■     Configurable user black list

■     Export/Import local users list to/from a text file

■     Web-based Captive Portal for SSL bowered-based authentication

■     Authentication Type

–  IEEE802.1X(EAP,LEAP,EAP-TLS,EAP-TTLS,EAP-GTC,EAP-MD5)

–  RFC2865 RADIUS Authentication

–  RFC3579 RADIUS Support for EAP

–  RFC3748 Extensible Authentication Protocol

–  MAC Address authentication

Web-based captive portal authentication

Authorization

 

■     Authorization : access control to network resource such as protected network with intranet, internet, bandwidth, VPN,

  and full stateful packet firewall rule sets

QoS Enforcement

 

■     Packet classification via DSCP (Differentiated Services code Point )

■     Traffic Analysis and Statistics

■     Diff/TOS

■     IEEE 802.1Q Tag VLAN priority control

■     IEEE 802.11e WMM

■     Automatic mapping of WMM priorities to 802.1p and IP DSCP

■     U-APSD(Unscheduled Automatic Power Save Delivery)

■     IGMP Snooping for efficient multicast delivery

■     Upload and Download Traffic Management

■     Support WMM Multiple Priority Level

■     Scheduled Policies

Firewall

 

■     Built-in DoS attack protection

■     Inspection Full statefull packet filter

■     Access Control List

■     Multiple Domain Support