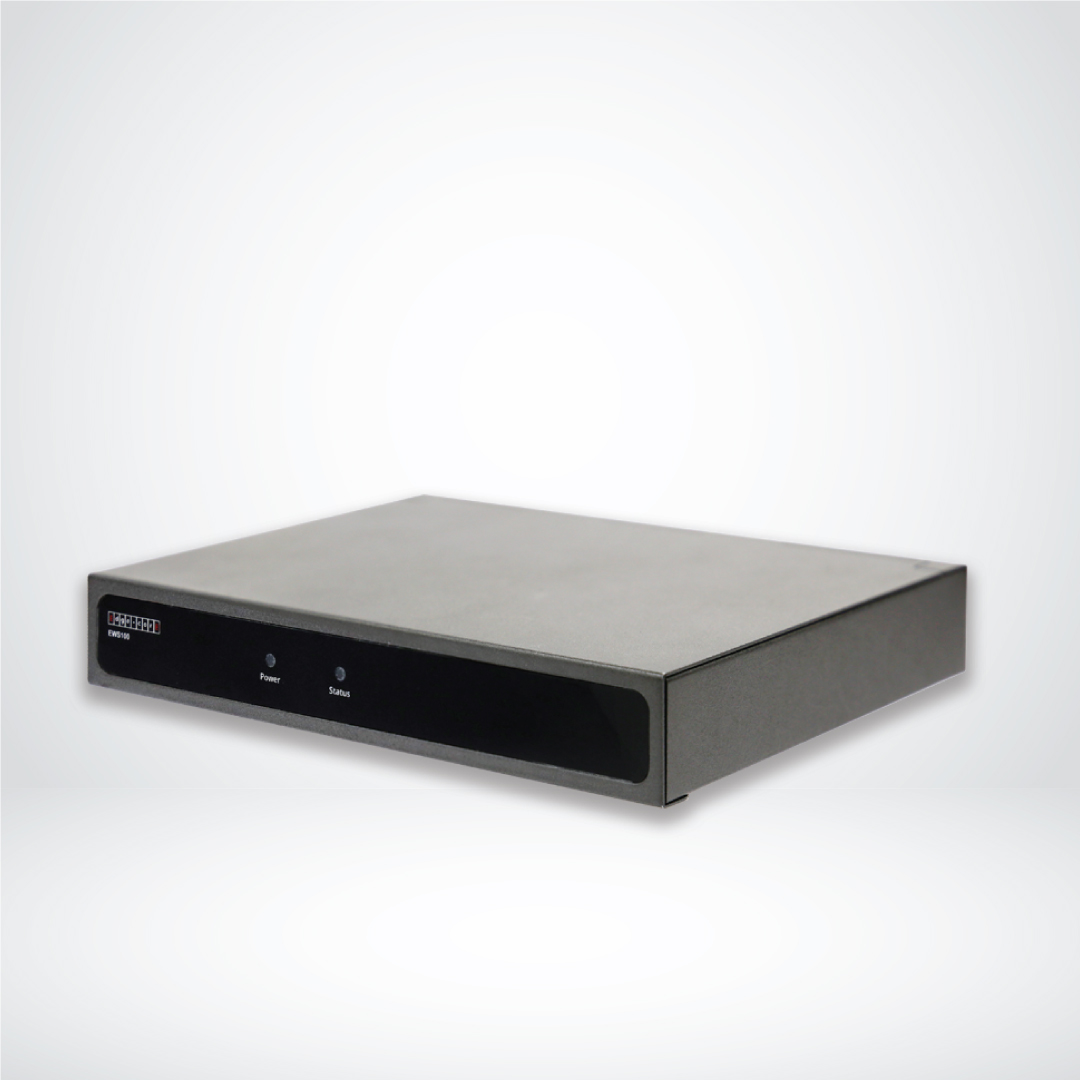 WLAN Gateway Controller having Enterprise-Grade Functionality & Supports 10AP – EWS100
Compare
Compare
The Edgecore EWS100 is an entry-level WLAN gateway-controller that provides enterprise-grade functionality for SMBs, retail/chain stores, and distributed sites. With AP management, user authentication, policy assignment, traffic shaping, and firewall features all packaged into a single box, the EWS100 allows smaller organizations with minimal IT resources to enable the same level of network security and management capabilities as their large enterprise counterparts. The EWS100 is extremely affordable, easy to deploy, and simple to manage, making it the ideal choice for SMBs needing a comprehensive Wi-Fi solution.
The EWS100 is capable of managing up to 10 ECW/ECWO-series Wireless Access Points, which can be deployed and configured easily by anyone, including non-wireless savvy users. For example, automated AP discovery prevents network administrators from having to go through the hassle of individually adding and configuring each access point. Access points as well as connected Wi-Fi devices can then be monitored and managed from a centralized point, with extensive logging & reporting features to assist in troubleshooting and maintenance.
As Wi-Fi enabled handheld devices such as smartphones and tablets become ever so prevalent in our daily lives, businesses and network operators alike are faced with a mind-boggling dilemma – how to simultaneously address the needs of BYOD (Bring Your Own Device), manage Wi-Fi users, and maintain network service quality for mission critical applications. Edgecore's EWS100 is designed exactly with these requirements in mind, and with a total cost of ownership that satisfies even the most price conscious, organizations are guaranteed to receive an unmatched ROI on their wireless LAN infrastructure.
• SYSTEM CAPACITY
○ Up to 10 Managed Edgecore APs
○ Up to 2,000 Local Accounts
○ Up to 2,000 On-Demand Accounts
• POWER
○ DC Input: 12V / 1A
○ Power cord included
○ LED INDICATORS
○ Power, Status
• USER SECURITY
○ 802.1X, UAM (browser-based), IP or MAC-based
○ Customizable Captive Portal and Walled Garden
○ Local Account Database
• NETWORK SECURITY
○ Remote, Local, and Site-to-Site VPN
○ Local, On-Demand, Guest, RADIUS, LDAP, NT Domain, SIP, POP3 Authentication Servers
○ Intra-VLAN or Port-Based Network Isolation
• NETWORK SERVICES
○ Internet Protocols Supported: IPv4, IPv6
○ DHCP Server and Relay
○ Network Address Translation
○ Built-in HTTP Proxy Server
○ WAN Port Failover and Load Balancing
○ Micros Opera PMS Integration
• DEVICE MOBILITY
○ Remote VPN, Local VPN, Site-to-Site VPN
○ WISPr Smart Client
○Cross Gateway Roaming
○ Mobile Device Optimized Captive Portal
○ Multiple Device Logins Per Account
○ SYSTEM & NETWORK STATUS
○ System Dashboard
○ Graphical System Performance Reports
○ Traffic Volume Reports
○ Online Device Monitoring
○ Active Sessions List
○ Configurable SYSLOG Severity
○ SMTP (E-mail) Notifications
• PHYSICAL DIMENSIONS
○ Form Factor: Desk-top
○ 19.0 cm x 13.3 cm x 3.3 cm (W x D x H)
○ Weight: 0.82 kg (1.81 lbs)
• INTERFACES
○ WAN: (1 or 2)* x 10/100/1000Base-T Ethernet, Auto-MDIX, RJ-45
○ LAN: (4 or 3)* x 10/100/1000Base-T Ethernet, Auto-MDIX, RJ-45
○ *: Ethernet port allocation option for different deployment ­scenarios
○ USB 3.0 x 1
• ENVIRONMENTAL CONDITIONS
○ Operating Temperature: 0°C (32°F) to 40°C (104°F)
○ Operating Humidity: 5% to 95% non-condensing
• SYSTEM MANAGEMENT
○ Browser-Based Configuration
○ System Backup and Restore
○ Network Utilities
• AP MANAGEMENT
○ Automatic AP Discovery and Provisioning
○ AP Firmware Batch Upgrade
○ Layer 2 and Layer 3 Tunneled AP Management
○ AP Load Balancing
• USER MANAGEMENT
○ User Policy Assignment
○ Bandwidth Limitations
○ Traffic Classification / Remarking
○ Stateful Firewall
○ Concurrent Session Limit
○ IP Address Reassignment
• NETWORK ACTIVITY LOGS
○ System Log (SYSLOG)
○ CAPWAP, Configuration Change, RADIUS Server, SIP Call, UAMD, User Events Logs
○ User HTTP Web Log
○ WHG Local Web Log
○ Firewall Log
○ DHCP Server/Lease Log
○ PMS Interface Log
○ AP Status E-mail Notification
○ Logging to External FTP
○ Configurable Logs &Reporting; Intervals
Hotspot Billing & Guest Wi-Fi
○ Customizable Captive Portal
○ Social Media Login
○ Guest On-Demand Accounts
○ Multiple Billing Plans & User Quotas
○ SMS & Payment Gateway Interfaces
○ Location-based Login Advertisements
○ Multi-factor Email Verification
○ Flexible On-Demand API
○ Unique Service Zone Access Restrictions
Complete User Management
○ 802.1X or Browser-based Authentication
○ Simultaneous Authentiaction Databases
○ Flexible Role-based User Policies
○ Schedule-based Policy Assignment
○ User Bandwidth Control, Firewall, and Routing
○ MAC/IP Privilege Lists and Blacklists
○ Detailed User Browsing History
○ User Session Control & Limits
○ Traffic Isolation by SSID or Service Zone
○ User Event Logs & Traffic Statistics
Wi-Fi Performance Optimization
○ Centralized AP Provisioning & Management
○ Configurable Connectivity Thresholds
○ Airtime Fairness & Band Steering
○ AP Grouping & Load Balancing
○ Rogue AP Detection
○ Seamless & Fast Roaming
○ Map-based AP Visualization
○ AP Status Monitoring & Notifications
○ Built-in Network Troubleshooting Utilities