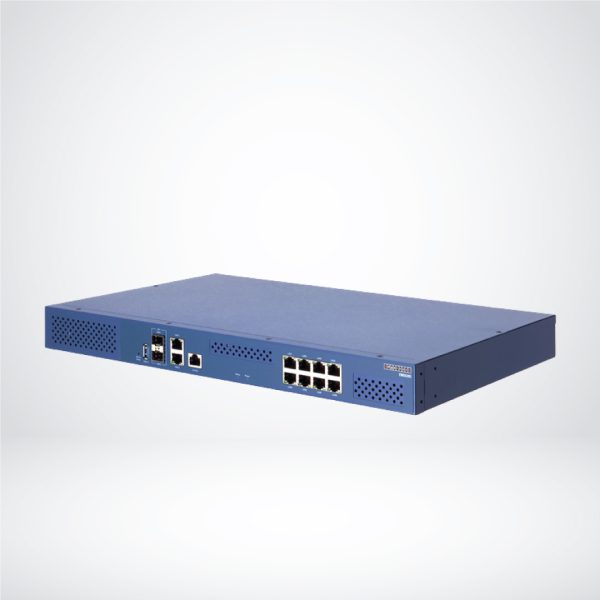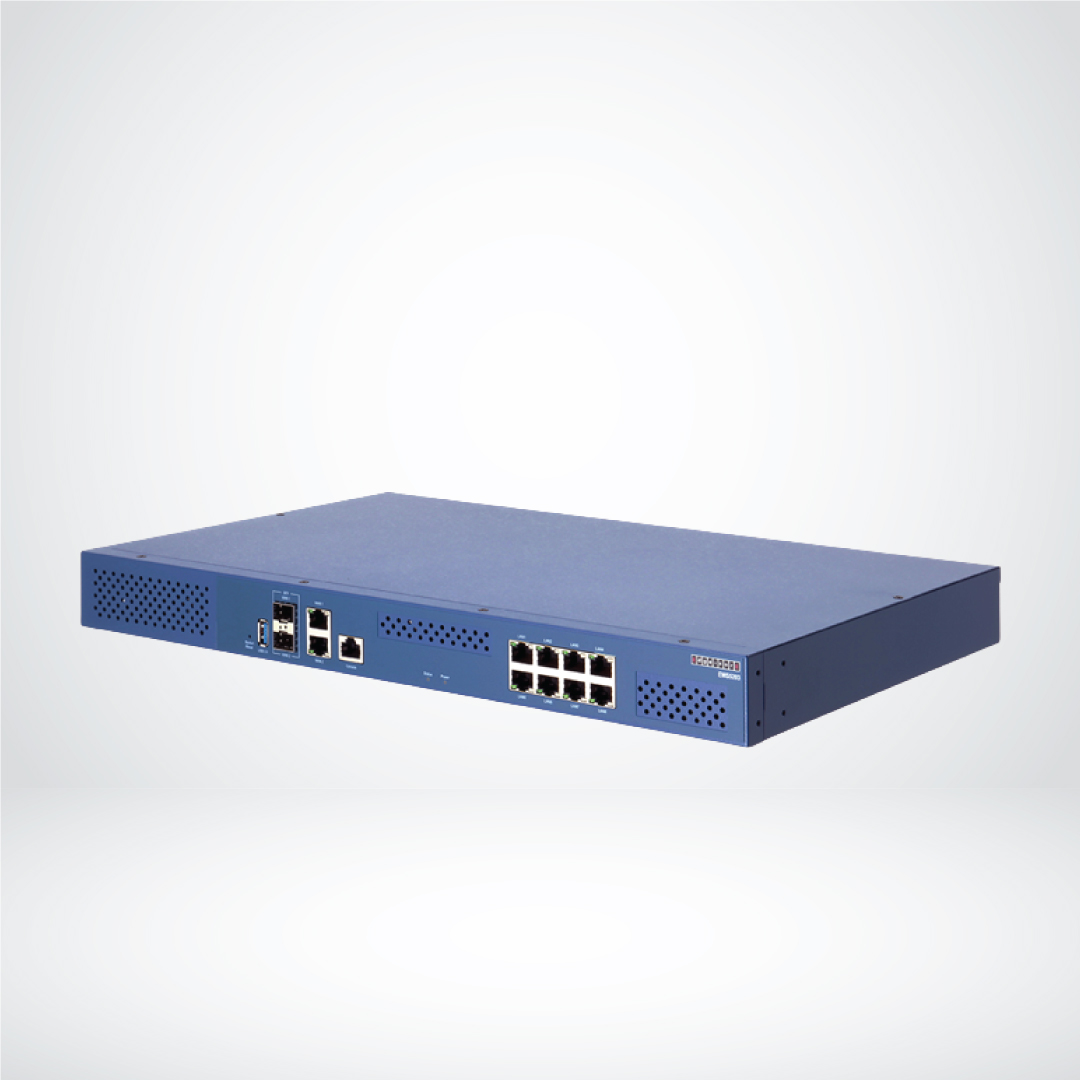 WLAN Gateway Controller for Managing Up To 300 ECW/ECWO Series Wireless Access Point – EWS-5203
Edgecore EWS5203 WLAN gateway-controller is an ideal solution for medium-sized hotels, schools, and public venues requiring secure user access control and Wi-Fi management.
Compare
Compare
The Edgecore EWS5203 is an enterprise-grade wireless LAN controller that provides establishments such as hotels, universities, or even complete municipalities with a comprehensive set of managed Wi-Fi features at a competitive license-free price point. With AP management, user authentication, policy assignment, traffic shaping, firewall features, and much more all packaged into a single box, the EWS5203 provides network administrators with a reliable, easy-to-use, and centralized management console for an entire organization's wireless network infrastructure.
The EWS5203 is capable of managing up to 300 ECW/ECWO-series Wireless Access Points and can be directly integrated with Edgecore's Switches, all of which can be deployed and configured easily by anyone, including non-wireless savvy users. For example, automated AP discovery prevents network administrators from having to go through the hassle of individually adding and configuring each access point. Access points as well as connected Wi-Fi devices can then be monitored and managed from a centralized point, with extensive logging & reporting features to assist in troubleshooting and maintenance.
As Wi-Fi enabled handheld devices such as smartphones and tablets become ever so prevalent in our daily lives, businesses and network operators alike are faced with a mind-boggling dilemma – how to simultaneously address the needs of BYOD (Bring Your Own Device), manage Wi-Fi users, and maintain network service quality for mission critical applications. The EWS5203 is designed exactly with these requirements in mind, and with a total cost of ownership that satisfies even the most price conscious, organizations are guaranteed to receive an unmatched ROI on their wireless LAN infrastructure.
SYSTEM CAPACITY

Up to 300 Managed Edgecore APs
Up to 80 Managed Switches
Up to 10,000 Local Accounts
Up to 10,000 On-Demand Accounts
Max. Number of Online Users: 3,000; Switchable

POWER

Input: 100-240 VAC, 50/60 Hz
Power cord included

LED INDICATORS

USER SECURITY

Authentication: 802.1X, UAM (browser-based), IP or MAC-based
Authentication Servers: Local, On-demand, Guest, RADIUS, LDAP, NT Domain, SIP, POP3
Customizable Captive Portal and Walled Garden
User Blacklisting

ACCOUNT GENERATION

SMS Registration
Purchase via Paypal
Hotel PMS Integration
Selectable Billing Plans
Account Ticket Printer
Smart Login
Guest Wi-Fi Account
Social Media Login

NETWORK SECURITY

Remote, Site-to-Site VPN
Tunneling Protocols: IPSec, IKEv2
Intra-VLAN or Port-Based Network Isolation
Rogue AP Detection
Built-in Root CA Certificates

NETWORK SERVICES

High Availability: N+1 Redundancy with automatic synchronization
Internet Protocols Supported: IPv4, IPv6
DHCP Server and Relay
Network Address Translation
Built-in HTTP Proxy Server
WAN Port Load Balancing
Dynamic Routing
Local DNS Records
Integrated Billing & Accounting System
Billing Quota Types: By duration; By Traffic Volume
Innkey PMS Integration
Oracle OPERA Hospitality Integration
IDS Next Integration

SYSTEM & NETWORK STATUS

System Dashboard
Graphical System Performance Reports
Traffic Volume Reports
System Process Monitor
Online Device Monitoring
Active Sessions List
Configurable SYSLOG Severity
SMTP (E-mail) Notifications
Multiple Concurrent E-mail Notification Receivers
PHYSICAL DIMENSIONS

19" (1U) Rack Mount, Mounting bracket included
42.6 cm x 27.0 cm x 4.4 cm (W x D x H)
Weight: 2.6 kg (5.73 lbs)

INTERFACES

WAN: 2 x 10/100/1000Base-T Ethernet, Auto-MDIX, RJ-45; or 2 x SFP
LAN: 8 x 10/100/1000Base-T Ethernet, Auto-MDIX, RJ-45
Console: 1 x RJ-45
USB: 1 x USB3.0

ENVIRONMENTAL CONDITIONS

Operating Temperature: 0°C (32°F) to 40°C (104°F)
Operating Humidity: 10% to 90% non-condensing

SYSTEM MANAGEMENT

Browser-Based Configuration
System Backup and Restore
SNMP
Network Utilities

AP MANAGEMENT

Automatic AP Discovery and Provisioning
AP Firmware Batch Upgrade
Layer 2 and Layer 3 Tunneled AP Management
AP Load Balancing
Automatic AP Firmware Upgrade
Automatic Periodically AP Backup

SWITCH MANAGEMENT

Automatic Switch Discovery and Provisioning
Switch Configuration Backup & Restore
Switch Power Scheduling

USER MANAGEMENT

User Policy Assignment
Bandwidth Limitations
802.1p / DSCP Traffic Classification / Remarking
Stateful Firewall
Static Route Assignment
Concurrent Session Limit
IP Address Reassignment

DEVICE MOBILITY

WISPr Smart Client
Cross Gateway Roaming
Fast Roaming Between APs
Mobile Device Optimized Captive Portal
Multiple Device Logins Per Account
QR Code Automatic Login
Device Plug-and-Play
On-Demand Smart Login without Re-Authentication

NETWORK ACTIVITY LOGS

System Log (SYSLOG)
CAPWAP, Configuration Change, RADIUS Server, User Events Logs
User HTTP Web Log
Firewall Log
DHCP Server/Lease Log
PMS Interface Log
On-Demand Billing Report
AP Status E-mail Notification
AP Management Event Log
Logging to External FTP
Configurable Logs &Reporting; Intervals